IN PART #1 OF OUR SOCIALIST WOMAN PRESIDENT PROPHECY SERIES I TAKE A BIBLICAL LOOK AT 2020 CANDIDATE AND POSSIBLE 2024 PRESIDENTIAL CANDIDATE KIRSTEN GILLIBRAND WHO CLAIMS TO BE HERSELF "ON FIRE FOR THE LORD." I have had several dreams dating back to 2008 that one day America would have a so called Socialist Woman president who would make College- especially community college FREE. I have talked about this before in many venues. Now we are going to look at the political landscape and explore this. The face and name of the woman president was blocked out in my dreams. I have at least 3 good Candidates, and we are studying one of them.
Gillibrand is the
#metoo Senator
who recites Bible Scripture on the campaign trail.
On Youtube, whose main audience for Years has been affluent Conservative White Men in America Gillibrand has a VERY VERY VERY negative reception because unlike the rest of the #metoo movement who is out to put Black men in Prison while White Men are getting off Scot-Free. Senator Gillibrand seems interested in putting the White Man in America's balls in a vice.
I support the Premise of #metoo, but not the execution.
IT IS NOT WELFARE THAT CREATED SINGLE MOTHERS. ITS DOMESTIC VIOLENCE LAWS COUPLED WITH "EASY DIVORCE" (primarily the allowance of Female Initiated Divorce) THAT CREATED SINGLE MOTHERS. For Blacks, mass incarceration started it. Black Women were getting tons of welfare before 1970 (arguably more welfare than today), and were still not single mothers in such high rates before mass incarceration.
Besides, what about all of the professional educated women with good jobs of any Race
You see, those graphs tell on the lies of Conservatives.
They want to Austerity Genocide Blacks Latinos and Native Americans, and ghouls think getting rid of Welfare is the best way. Fellas, you have been tricked and duped into thinking that 'Once the White Man gets rid of Welfare these women are going to submit to us and have to be financially dependent on us.'
Read Isaiah 4:1 again:
Isaiah 4:1
[1]And in that day seven women shall take hold of one man, saying, We will eat our own bread, and wear our own apparel: only let us be called by thy name, to take away our reproach.
These Women aren't going to be financially dependent on us. They will be more dependent on us from plagues and for security from these Predators out here than finances. Does not the verse say these Women will bring their own money and food in your Polygynous Home?
As I keep saying, what I was shown. The obsolescence of all men from the employment market will continue. Black men have had problems getting jobs, because the employment market is telling you that you are obsolete. The same is happening now to the White Man, and this will continue to increase. Jobs that were done by men are now being replaced by Women, and jobs that Women used to do are now being replaced by computers and automation. Whereas, other jobs are being totally eliminated.
Women accept things that to a man are unacceptable and mostly keep their heads down and their mouth shut. Employers like that.
This is natural for a woman to do this, but God intended it for her man.
Proverbs 31:10-31
[10]Who can find a virtuous woman? for her price is far above rubies.
[11]The heart of her husband doth safely trust in her, so that he shall have no need of spoil.
[12]She will do him good and not evil all the days of her life.
[13]She seeketh wool, and flax, and worketh willingly with her hands.
[14]She is like the merchants' ships; she bringeth her food from afar.
[15]She riseth also while it is yet night, and giveth meat to her household, and a portion to her maidens.
[16]She considereth a field, and buyeth it: with the fruit of her hands she planteth a vineyard.
[17]She girdeth her loins with strength, and strengtheneth her arms.
[18]She perceiveth that her merchandise is good: her candle goeth not out by night.
[19]She layeth her hands to the spindle, and her hands hold the distaff.
[20]She stretcheth out her hand to the poor; yea, she reacheth forth her hands to the needy.
[21]She is not afraid of the snow for her household: for all her household are clothed with scarlet.
[22]She maketh herself coverings of tapestry; her clothing is silk and purple.
[23]Her husband is known in the gates, when he sitteth among the elders of the land.
[24]She maketh fine linen, and selleth it; and delivereth girdles unto the merchant.
[25]Strength and honour are her clothing; and she shall rejoice in time to come.
[26]She openeth her mouth with wisdom; and in her tongue is the law of kindness.
[27]She looketh well to the ways of her household, and eateth not the bread of idleness.
[28]Her children arise up, and call her blessed; her husband also, and he praiseth her.
[29]Many daughters have done virtuously, but thou excellest them all.
[30]Favour is deceitful, and beauty is vain: but a woman that feareth the LORD, she shall be praised.
[31]Give her of the fruit of her hands; and let her own works praise her in the gates.
The Woman's primary reasoning to make money outside of the home is to support what her man is doing- nothing else.
The reason why your woman is barely functional for you fellas, is because the skills she is supposed to use to serve you are being utilized to serve Corporate America. So by the time she gets home- she's burned out. Either, women are going to have to give up those jobs like they are asked to do in some Trad Con Israelite congregations (which we don't suggest- in fact find not a very good idea). Or, since they have taken over the workforce anyway- EASE UP ON SERVING THE BEAST, AND USE THAT ENERGY YOU USE TO PLEASE THAT COMPANY TO PLEASE AND SERVE GOD THROUGH SERVING YOUR MAN.
Senator Gillibrand wants Post Office to conduct Banking Services to combat Payday Loans
CNBC
Gillibrand signed making two years of community college free
On The Issues
Providing a federal match of $3 for every $1 invested by the state to waive community college tuition and fees for eligible students;
Ensuring that programs offer academic credits which are fully transferable to four-year institutions in their state;
Establishing a new grant program to provide pathways to success at minority-serving institutions by helping them cover a significant portion of tuition and fees for the first two years of attendance for low-income students.
Community, technical, and tribal colleges enroll 40% of all college students today. Community colleges are uniquely positioned to partner with employers to create tailored training programs to meet economic needs within their communities such as nursing and advanced manufacturing.
General Epistle of Barnabas 14:1-11- Lost Books of the Bible
Of the way of light; being a summary of what a Christian is to do, that he may be happy for ever. AND thus, I trust, I have declared to you as much, and with as great simplicity as I could, those things which make for your salvation, so as not to have omitted anything that might be requisite thereunto 2 For should I speak further of the things that [note: So the old Lat. Interp] now are, and of those that are to come, you would not yet understand them, seeing they lie in parables. This therefore shall suffice as to these things 3 Let us now go on to the other kind of knowledge and doctrine There are two ways of doctrine and power; the one of light, the other of darkness 4 But there is a great deal of difference between these two ways: for over one are appointed the [note: Vid. Coteler in loc et Basil in Psalm i] angels of God, the leaders of the way of light; over the other, the angels of Satan. And the one is the Lord from everlasting to everlasting; the other is the prince of the time of unrighteousness 5 Now the way of light is this, if any one desires to attain to the place that is appointed for him, and will hasten thither by his works. And the knowledge that has been given to us for walking in it, to this effect: Thou shalt love him that made thee: thou shalt glorify him that hath redeemed thee from death 6 Thou shalt be simple in heart, and rich in the spirit. Thou shalt not cleave to those that walk in the way of death. Thou shalt hate to do anything that is not pleasing unto God. Thou shalt abhor all dissimulation. Thou shalt not neglect any of the commands of the Lord 7 Thou shalt not exalt thyself, but shalt be humble. Thou shalt not take honour to thyself. Thou shalt not enter into any wicked counsel against thy neighbour. Thou shalt not be over-confident in thy heart 8 Thou shalt not commit fornication, nor adultery. Neither shalt thou corrupt thyself with mankind. Thou shalt not make use of the word of God, to any impurity 9 Thou shalt not accept any man's person, when thou reprovest any one's faults. Thou t shalt be gentle. Thou shalt be quiet. Thou shalt tremble at the words which thou hast heard. Thou shalt not keep any hatred in thy heart against thy brother. Thou shalt not entertain any doubt whether it shall be or not 10 Thou shalt not take the name of the Lord in vain. Thou shalt love thy neighbour above thy own soul 11 Thou shalt not destroy thy conceptions before they are brought forth; nor kill them after they are born.
Kirsten Gillibrand: "I TOTALLY SUPPORT ABORTION AND POPULATION CONTROL"
On the Issues
Let women make life-and-death decision about own body
Sharp distinctions were apparent Wednesday between Long and Gillibrand, who has championed same-sex marriage and women's rights. In one of the most animated exchanges, Long spoke against the mandate that President Barack Obama announced in January requiring most employers to provide health insurance that covers birth control, a move opposed by many Roman Catholic groups. "If I'm just a private person with a business, and I have faith that tells me that abortion, sterilization and contraception are evil, will I be forced to buy such a plan, to offer it to my employees?" Long asked.
Gillibrand countered that there is a movement to undermine women's basic rights. "To say that's evil shows disregard for the ability of a woman to make that personal life-and-death decision about her own body," Gillibrand said.
Source: New York Newsday on 2012 N. Y. Senate debate , Oct 17, 2012
Majority of women use contraception; it's not "evil"
The anti-abortion Long spoke out against President Obama's mandate that religious employers who provide worker health insurance cover birth control, with limited exemptions. Long called it a threat to religious liberties to require people of faith and religious institutions who view abortion and contraception as 'evil' to include them in insurance coverage."
Gillibrand shot back that the overwhelming majority of women use some type of contraception. "To say that's evil shows a disregard for the ability of a woman to make that personal life and death decision about her own body and her family," she said.
Source: New York Daily News on 2012 N. Y. Senate debate , Oct 17, 2012
Require coverage of contraception, even church employees
Gillibrand immediately sought to define Long based on her views on abortion. Long is pro-life and Gillibrand is staunchly pro-choice; the senator's spokesman attacked Long as "far out of step with our state."
The women also differ on a recent plan, announced by the Obama administration, to require coverage of contraception. Originally Obama mandated that all employers--including some religious hospitals that may have a moral objection--provide contraception coverage in their insurance plans. After pressure, Obama amended the regulations to require health insurers provide the coverage without employers that object to it paying.
Republicans last week attempted to pass a measure, dubbed the Blunt Amendment, which would allow employers a "conscience" exemption. Long said she would support it, and attacked Gillibrand's vigorous opposition to it.
"She supports Obama's enforcement of their view on religious institutions & people of conscience who would have a problem with it," Long said
Source: Capitol Confidential on 2012 N. Y. Senate debate , Mar 5, 2012
Financially supported by Emily's List
Her politics, perhaps reflecting her conservative district, cannot be easily charted along a left-right axis. She earned a high rating from the National Rifle Association and opposed efforts to extend state drivers' licenses to illegal immigrants. At the same time, she favors abortion rights.
She was an outspoken supporter of Mrs. Clinton's presidential campaign and has drawn financial support from prominent women's groups in Washington, not least Emily's List.
Source: Michael Powell and Raymond Hernandez, New York Times , Jan 23, 2009
Voted NO on restricting UN funding for population control policies.
Congressional Summary:
To require that amounts appropriated for the United Nations Population Fund are not used by organizations which support coercive abortion or involuntary sterilization.
Sen. COBURN (R-OK): I stand in the corner of pro-life. But I want to debate this issue as if I were pro-choice. If we believe that women have a right to choose, why in the world would we send money to UNFP that is going to take that right away from women in other countries? You can't be on both sides of this issue. Either you believe in a woman's right to choose or you do not. Or you only believe in a woman's right to choose in America, and because the Chinese have too many people, you don't think that same human right ought to be given to women in China. There is no question that UNFP will mix this money, and we will fund forced abortions in China. [Without this amendment] American taxpayer dollars are going to go to China to enforce coercive abortion against the will of women and force sterilization against the will of women in China.
Reference: Wicker Amdt.; Bill S.Amdt.607 to H.R.1105 ; vote number 2009-S081 on Mar 5, 2009
Voted YES on expanding research to more embryonic stem cell lines.
Allows federal funding for research that utilizes human embryonic stem cells, regardless of the date on which the stem cells were derived from a human embryo, provided such embryos:
have been donated from in vitro fertilization clinics;
were created for the purposes of fertility treatment;
were in excess of the needs of the individuals seeking such treatment and would otherwise be discarded; and
were donated by such individuals with written informed consent and without any financial or other inducements.
Since 2 years ago, the last Stem Cell bill, public support has surged for stem cells. Research is proceeding unfettered and, in some cases, without ethical standards in other countries. And even when these countries have ethical standards, our failures are allowing them to gain the scientific edge over the US. Some suggest that it is Congress' role to tell researchers what kinds of cells to use. I suggest we are not the arbiters of research. Instead, we should foster all of these methods, and we should adequately fund and have ethical oversight over all ethical stem cell research.
A good deal has changed in the world of science. Amniotic fluid stem cells are now available to open a broad new area of research. I think the American people would welcome us having a hearing to understand more about this promising new area of science. As it stands today, we will simply have to debate the bill on the merits of information that is well over 2 years old, and I think that is unfortunate.
The recent findings of the pluripotent epithelial cells demonstrates how quickly the world has changed. Wouldn't it be nice to have the researcher before our committee and be able to ask those questions so we may make the best possible judgment for the American people?
Reference: Stem Cell Research Enhancement Act; Bill HR 3 ("First 100 hours") ; vote number 2007-020 on Jan 11, 2007
Supports both federal abortion funding & judicial activism.
Gillibrand supports the CC survey questions on abortion & strict interpretation
The Christian Coalition voter guide [is] one of the most powerful tools Christians have ever had to impact our society during elections. This simple tool has helped educate tens of millions of citizens across this nation as to where candidates for public office stand on key faith and family issues.
The CC survey summarizes candidate stances on the following topics:
Public funding of abortions, (such as govt. health benefits and Planned Parenthood)
Appointing judges that will adhere to a strict interpretation of the Constitution [vs. accepting judicial activism]
Source: Christian Coalition Survey 10-CC-q1 on Aug 11, 2010
Sponsored bill allowing military abortions in cases of rape.
Gillibrand sponsored MARCH for Military Women Act
Military Access to Reproductive Care and Health for Military Women Act or the MARCH for Military Women Act - Amends the prohibition on using funds available to the Department of Defense (DOD) to perform abortions by adding an exception for cases where the pregnancy is the result of rape or incest. (Current law provides an exception only where the life of the mother would be endangered if the fetus were carried to term.) Repeals a statutory restriction on using a medical treatment facility or other facility of the DOD to perform an abortion.
Currently, the health coverage U.S. servicewomen have doesn't cover abortion, even in the case of rape or incest. U.S. servicewomen are also not permitted to use their own money to pay for an abortion at a military hospital. Military women stationed abroad are most affected by this regulation, as they would be forced to seek abortion services at foreign hospitals, which may be unsafe, or request permission from a supervisor to leave the country, which forces them to divulge that they are seeking an abortion. Most other American women who receive health care from the government but are not in the service can receive abortions in the case of rape, incest, or to the save the life of the mother. The MARCH for Military Women Act would give servicewomen coverage for abortion in the case of rape or incest and allow them to use their own funds for abortion at a U.S. military facility. NARAL Pro-Choice America and Planned Parenthood are among many organizations that support this legislation.
Source: HR2085&S1214 11-S1214 on Jun 16, 2011
Require pharmacies to fulfill contraceptive prescriptions.
Gillibrand signed Access to Birth Control Act
Access to Birth Control Act: Amends the Public Health Service Act to require pharmacies to comply with certain rules related to contraceptives, including:
providing a customer a contraceptive without delay if it is in stock;
immediately informing a customer if the contraceptive is not in stock and either transferring the prescription to a pharmacy that has the contraceptive in stock or expediting the ordering of the contraceptive and notifying the customer when it arrives, based on customer preference, except for pharmacies that do not ordinarily stock contraceptives in the normal course of business; and
ensuring that pharmacy employees do not take certain actions relating to a request for contraception, including intimidating, threatening, or harassing customers, interfering with or obstructing the delivery of services, intentionally misrepresenting or deceiving customers about the availability of contraception or its mechanism of action, breaching or threatening to breach medical confidentiality, or refusing to return a valid, lawful prescription.
Provides that this Act does not preempt state law or any professional clinical judgment. Sets forth civil penalties and establishes a a private cause of action for violations of this Act.
Source: HR2659&S1415 11-S1415 on Jul 26, 2011
Ban anti-abortion limitations on abortion services.
Gillibrand co-sponsored Women's Health Protection Act
a requirement that a medical professional perform specific tests, unless generally required in the case of medically comparable procedures;
a limitation on an abortion provider's ability to delegate tasks;
a limitation on an abortion provider's ability to prescribe or dispense drugs based on her or his good-faith medical judgment;
a requirement or limitation concerning the physical plant, equipment, staffing, or hospital transfer arrangements;
a requirement that, prior to obtaining an abortion, a woman make medically unnecessary visits to the provider of abortion services or to any individual or entity that does not provide such services;
a prohibition or ban prior to fetal viability
Source: H.R.3471 & S.1696 14-S1696 on Nov 13, 2013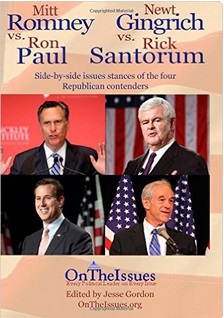 Paperback: Romney/Paul/Santorum/Gingrich
Side-by-Side
On The Issues
Access safe, legal abortion without restrictions.
Gillibrand co-sponsored S.217 & H.R.448
Access to safe, legal abortion services has been hindered in various ways, including blockades of health care facilities; restrictions on insurance coverage; restrictions on minors' ability to obtain services; and requirements that single out abortion providers.
These restrictions harm women's health by reducing access to the other essential health care services offered by the providers targeted by the restrictions, including contraceptive services.
The cumulative effect of these numerous restrictions has been that a woman's ability to exercise her constitutional rights is dependent on the State in which she lives.
It is the purpose of this Act to protect women's health by ensuring that abortion services will continue to be available and that abortion providers are not singled out for medically unwarranted restrictions
Myth: Life-affirming laws are enacted "under the false pretext of health and safety."
Fact: Induced abortion is associated with significant risks and potential harms to women.
Myth: "Where abortion services are restricted and unavailable, abortions still occur and are mostly unsafe."
Fact: Where abortion is restricted, maternal mortality rates have decreased.
Myth: Admitting privileges laws are "not medically justified."
Fact: Women with abortion complications are told to go to an emergency department. This would constitute malpractice in any other scenario.
Myth: Ultrasounds and their descriptions are "cruel and inhumane."
Fact: Allowing women the opportunity to view their ultrasounds serves an important role in providing informed consent, enabling women to exercise true choice.
Source: Women's Health Protection Act 15_S217 on Jan 21, 2015
Keep federal funding for family planning clinics.
Gillibrand signed keeping federal funding for family planning clinics
Source: Letter to the Senate Majority Leader from 46 Senators 17LTR-TITX on Mar 1, 2017
Ensure access to and funding for contraception.
Gillibrand co-sponsored ensuring access to and funding for contraception
A bill to expand access to preventive health care services that help reduce unintended pregnancy, reduce abortions, and improve access to women's health care. The Congress finds as follows:
Healthy People 2010 sets forth a reduction of unintended pregnancies as an important health objective to achieve over the first decade of the new century.
Although the CDC included family planning in its published list of the Ten Great Public Health Achievements in the 20th Century, the US still has one of the highest rates of unintended pregnancies among industrialized nations.
Each year, 3,000,000 pregnancies, nearly half of all pregnancies, in the US are unintended, and nearly half of unintended pregnancies end in abortion.
In 2004, 34,400,000 women, half of all women of reproductive age, were in need of contraceptive services, and nearly half of those were in need of public support for such care.
The US has the highest rate of infection with sexually transmitted diseases of any industrialized country. 19 million cases impose a tremendous economic burden, as high as $14 billion per year.
Increasing access to family planning services will improve women's health and reduce the rates of unintended pregnancy, abortion, and infection with sexually transmitted diseases. Contraceptive use saves public health dollars. For every dollar spent to increase funding for family planning programs, $3.80 is saved.
Contraception is basic health care that improves the health of women and children by enabling women to plan and space births.
Women experiencing unintended pregnancy are at greater risk for physical abuse and women having closely spaced births are at greater risk of maternal death.
A child born from an unintended pregnancy is at greater risk of low birth weight, dying in the first year of life, being abused, and not receiving sufficient resources for healthy development.
Source: Prevention First Act (S.21/H.R.819) 2007-HR819 on Feb 5, 2007
Focus on preventing pregnancy, plus emergency contraception.
Gillibrand signed Prevention First Act
Family Planning Services Act: Authorizes appropriations for family planning services grants and contracts under the Public Health Service Act (PHSA).
Equity in Prescription Insurance and Contraceptive Coverage Act: Amends the Employee Retirement Income Security Act of 1974 (ERISA) and PHSA to prohibit a group health plan from excluding or restricting benefits for prescription contraceptive drugs, devices, and outpatient services
Emergency Contraception Education Act: to develop and disseminate information on emergency contraception to the public and to health care providers.
Compassionate Assistance for Rape Emergencies Act: Requires hospitals, as a condition of receiving federal funds, to offer and to provide, upon request, emergency contraception to victims of sexual assault.

At-Risk Communities Teen Pregnancy Prevention Act: to award grants for teenage pregnancy prevention programs & prevention research.

Truth in Contraception Act: Requires that any information concerning the use of a contraceptive provided through specified federally funded education programs be medically accurate and include health benefits and failure rates.
Unintended Pregnancy Reduction Act: to expand Medicaid's coverage of family planning services.
Responsible Education About Life Act: to make grants to states for family life education, including education on abstinence and contraception, to prevent teenage pregnancy and sexually transmitted diseases.
Prevention Through Affordable Access Act: Expands Medicaid rebates to manufacturers for the sale of covered outpatient drugs at nominal prices to include sales to student health care facilities and entities offering family planning services.
Source: S.21&H.R.463 2009-S21 on Jan 6, 2009
Emergency contraception at all military health facilities.
Gillibrand signed emergency contraception at all military health facilities
CONGRESSIONAL SUMMARY:
Emergency contraception in drug form shall be included on the basic core formulary of the uniform formulary. Emergency contraception in other than drug form may also be included on the basic core formulary.
[This bill does not] require emergency contraception to be covered under the pharmacy benefits program.
Prior authorization shall not be required for emergency contraception.
The term 'emergency contraception' means a drug, drug regimen, or device that is approved by the FDA to prevent pregnancy; and is used postcoitally.
SPONSOR'S INTRODUCTORY REMARKS:
Sen. FRANKEN: The Compassionate Care for Servicewomen Act is a straightforward but vital piece of legislation. It would ensure that servicewomen in our military have reliable and timely access to emergency contraception when they need it.
Emergency contraception, or Plan B as it is more commonly known under its brand name, is Food and Drug Administration-approved medication that prevents pregnancy. It is safe and, if taken shortly after pregnancy, highly effective. Since 2006, the FDA has approved it for over-the-counter sale. Currently, women 17 years old and older may purchase emergency contraception over the counter, while those younger require a prescription. Emergency contraception is widely available at pharmacies throughout the U.S. The problem this legislation is meant to address is that there's no guarantee that emergency contraception be available to our servicewomen in the military. Immediate accessibility is especially important in the case of emergency contraception because it is only effective if taken within a short window of time. Once a pregnancy is established, it doesn't work. The fact that more than 2,900 sexual assaults were reported last year in the military only heightens the need to ensure emergency contraception is always available.
Source: Compassionate Care for Servicewomen Act (S.2904) 2009-S2904 on Dec 17, 2009
Endorsed Endorsed by EMILY's list for pro-choice Democratic women.
Gillibrand is endorsed by Congressional endorsement list
EMILY's List is dedicated to electing pro-choice Democratic women to office:
EMILY's List looks for viable political opportunities and recruits strong pro-choice Democratic women candidates to run.
We tell our community of members about these women, and ask them to give directly to the campaigns.
We provide extensive training for candidates and staff so they can make the most of limited resources.
We conduct in-depth, ongoing research into the minds and moods of women voters, a critical bloc for Democrats.
Finally, our WOMEN VOTE! project reaches out to women voters to go to the polls and cast their ballots for progressive Democrats--because When Women Vote, Women Win!
EMILY's List's motto is "win today and build for tomorrow."
Our immediate focus is to protect our gains from 2008 and make sure President Obama has strong Democratic majorities in Congress. Its name? EMILY's List--an acronym for "Early Money Is Like Yeast" (because it makes the dough--campaign funds--rise).