2 Esdras 9:9
[9]Then shall they be in pitiful case, which now have abused my ways: and they that have cast them away despitefully shall dwell in torments.
Isaiah 19:2
[2]And I will set the Egyptians against the Egyptians: and they shall fight every one against his brother, and every one against his neighbour; city against city, and kingdom against kingdom.
Pastor Cinque talks about the prophetic significance of the uproars of the people in the Years 2019-2021:
- He talks about the Attempted Bombings this week using pipe bombs of the Prominent Establishment Liberal figures and how that was actually a dress run for what they really plan to do to many of us True Non-Establishment Social Justice Warriors circa 2020. They plan shootings, kidnappings, bombings, coming to our houses, baby mama's houses, and everything. They won't come to one of Obama's , Clinton's, or Pelosi's heavily guarded houses, but if you're out here as an activist even someone who doesn't show themselves that much they will come to yours. You need to be well armed with anything you can get your hands on.
- The establishment Fake Liberals are partially behind this and are working with the Alt-Right by giving them "gimme targets." These Targets are Non-Establishment Social Justice Warriors who are direct opposition to the Clinton/Obama Agenda fully, or at the very least are totally against Clinton and Tolerates Obama. They plan to the use the Violence to wipe out their Left opposition (People like Pastor Cinque) while at the same time demonize the Conservatives (and there's a huge Silent Majority of Socialists who got tricked by Obama and aren't voting anymore until the right person comes along) .
- TEMPORARY MARTIAL LAW WILL BE DECLARED OVER THIS VIOLENCE.
- The Shooting at the Pittsburgh Synagogue is a setup to scare the Jews out of America. Just like there are Liberals setting Liberals up. Blacks setting Blacks up, Latinos setting Latinos up, etc.. There are Jews Setting Jews up too. They are working with the Alt right to scare the Jews out of America, because they need every Jewish Body they can get for that 3rd world war that is truly coming and the Jews feel very comfortable in America. The poorest Jews in America have government jobs making more than many Blacks Latinos and Natives with Masters Degrees. Jews are the richest, most powerful, most prominent people in Nearly every city and town. Especially, towns east of the Mississippi River and West of the Rocky Mountains- ruling over us Hebrews the Blacks, Latinos, and Native Americans. America has been a paradise for them, while for us it has been an absolute prison in every way shape and form. Most of us have been wonderful and accommodating to the Jews here. In order for the Israelis to get what they need the Jews have to be scared out of not just America, but from everywhere on Earth. They plan to use this as a false Isaiah 60 Biblical Return Prophecy, and the BRAINWASHED White Evangelicals in America have bought it hook line and sinker. THIS FALLS IN LINE WITH PASTOR CINQUE'S PROPHECY OF "NO MORE WHITE JEWS IN AMERICA BY 2030."
- The HR 1242 and the Separation or Death Black nationalist Agenda- Muslims, Black Hebrew Israelites (those who believe in That ALL 12 Tribes are Black Doctrine), Black Boule, and others. HOW THEY PLAN TO USE THE UPCOMING 2020 False Prophecy of 400 years Acts 7:6/all Israel will be saved Rom 11:26 (When it is really 430 years + the non-Black Israelites are also part of it and 2/3rds along with the Black Hebrews have to die Eze. 4,5, and 6) to trick and goad people "back to Africa." Obama was forced by the Black Elites who run him/Black Boule/Congressional Black Caucus to make it as bad as possible for Black people in America so many of us (especially the Militants) will want to "go back" when the time comes. They plan on using these shooters and bombers to also scare/entice even more Black opposition and possible resisters to leave too. Why would they be worried about an opposition? They plan to use the coming economic collapse to totally change the labor force to where people live in camps where they work- communes. They will be nice at first, but then turn into worse than Chinese Slave Factories. Many of these Fake Liberals, Alt-Right Dupes, and Conservative Fake Christians plan to make a killing off of our people (including White People) being enslaved further. This is why they have to get rid of the most hardened opposition- the Black Militants. At the same time, they plan to release a ton of the Black Prisoners and offer them some land overseas as well. There will be land offered as "Reparations" both in America and out of country, but this will of course end up into another scam. Just like The Emancipation Proclamation and The Civil Rights Act were also scams.
- They will use many of the tactics in the FM 6-2003 Field Manual to carry out their plan during the 2020 election. However they will be only 25% successful at best, and will have to try again 7-10 years later. The demographics of America have become very very unfavorable for them since the manual was written 20 years ago. They have to deal with us wisely as it says in Exodus 1.
Living in a Van Plastered With Hate, Bombing Suspect Was Filled With Right-Wing Rage
AVENTURA, Fla. — On Twitter, Cesar Sayoc Jr. lashed out at immigrants, gun control advocates, and prominent Democratic politicians. On Facebook, he misspelled a racial epithet, directing it at the likes of Oprah Winfrey and former President Barack Obama.
With fury in his fingers, he shared inflammatory news stories from Breitbart, hard-edge videos from Fox News, and angry posts from pages like "Handcuffs for Hillary." He tweeted a threat to former Vice President Joe Biden. And he posted photographs of himself wearing a red "Make America Great Again" hat at one of President Trump's campaign rallies.
After a frenzied nationwide search for the person who sent 13 makeshift bombs to some of Mr. Trump's most prominent critics, Mr. Sayoc, 56, was arrested Friday morning in Plantation, Fla., at an AutoZone car parts shop. Authorities released a photograph of a man with a buzz cut and a mouth that drooped toward a frown. They hauled away a white van plastered with bombastic stickers expressing support for Mr. Trump and animosity toward those who clashed with him.
"Dishonest Media," read one on the van's back right window. "CNN Sucks." Cross hairs appeared on a photograph of one of the liberal commentators at the network, which received more than one package from Mr. Sayoc at its offices in New York.
Records show he was a registered Republican; friends said he once danced as a male stripper. He also had a lengthy criminal history — he was once accused of threatening to use a bomb against a customer service representative — and led a life filled with failure. Well into middle age, he was living with his mother with no furniture, according to 2012 bankruptcy records, and he appeared to have been living most recently out of his van.
Federal officials said Friday they were still exploring questions of motive. "He appears to be a partisan," Attorney General Jeff Sessions said at an afternoon news conference announcing Mr. Sayoc's arrest, "but that will be determined by the facts as the case goes forward."
And so, even as the details of a grim and bitter life began to emerge Friday, a shaken country was left to ponder what could have prompted someone full of political grievances to manufacture a slew of improvised explosive devices.
Some of the packages falsely listed as a sender Representative Debbie Wasserman Schultz, a Florida Democrat. On Friday, Ms. Schultz spoke, with a shaking voice, for the first time about the ordeal.
"No matter what your political persuasion, we need to turn the volume down," she said. "It's deeply disturbing. I just can't imagine that anyone would do this."
On Monday, law enforcement officials discovered the first package linked to Mr. Sayoc at a private home outside New York City that belongs to George Soros, the billionaire philanthropist. Days later, Mr. Sayoc would post tweets that targeted Mr. Soros and others, according to the criminal complaint.
Mr. Sayoc's posts on various social media accounts in 2015 showed an obsession with workouts and night life promotion, with little to no political content. But his more recent posts are full of political rage. His Facebook account, widely pored over after media reports of his arrest, suddenly disappeared on Friday.
"We have found and immediately removed the suspect's accounts on Facebook and Instagram," Facebook said in a statement. "We will also continue to remove content that praises or supports the bombing attempt or the suspect as soon as we're aware."
Much remains opaque about Mr. Sayoc. Some of his social media posts seemed to suggest he was part of the Seminole tribe in Florida. But Lenny Altieri, a relative, said that Mr. Sayoc's father was from the Philippines and his mother was from Brooklyn. He was raised by grandparents after having problems with his mother, Mr. Altieri said
Mr. Sayoc had short stints in college as a young man, and had a passion for soccer, reflected in numerous soccer-themed messages on the van. He attended Brevard College, a small, Methodist-affiliated liberal arts college in Western North Carolina, for a year beginning in the fall of 1980 and played on the soccer team but did not graduate, according to a spokeswoman. He also attended University of North Carolina at Charlotte for one year starting in 1983, an official there said.
Back in Florida, Mr. Altieri said, Mr. Sayoc was obsessed with bodybuilding and worked as a male stripper. He also worked as a manager for traveling "male revue shows," said Rachel Humberger, the wife of one of Mr. Sayoc's business partners.
Ms. Humberger said that Mr. Sayoc seemed like a friendly man, based on the short interactions she had with him, and described the shows as "Magic Mike style," a reference to a 2012 movie about male strippers, "Magic Mike."
More recently, she said Mr. Sayoc had been talking to her husband about starting a new business: fish farms.
Mr. Altieri said that Mr. Sayoc at one point had "a lot of money, but lost most of it." He did not elaborate on how Mr. Sayoc had acquired it.
Mr. Sayoc amassed a lengthy criminal record, dating back to 1991, which includes felony theft, drug charges and fraud, public records show.
In August 2002, Mr. Sayoc, in a dispute with a power company over a bill, was accused of threatening to blow up the company. Mr. Sayoc was on the phone with the customer service representative and "was upset over an amount that he was being billed for," according to records released by the Miami-Dade State Attorney's Office. He "then stated that he didn't deserve it and that he was going to blow up" the utility.
The customer service representative pressed an emergency button, which began recording the conversation. Mr. Sayoc stated that what he planned would be worse "than 9/11" and that he planned to blow the agent's head off, according to the records.
When the agent said Mr. Sayoc did not want to be making such threats, prosecutors said he had replied "that he doesn't make threats, he makes promises." Mr. Sayoc later described his remarks as nothing more than a joke.
In June 2012, Mr. Sayoc filed for personal bankruptcy, listing assets of $4,175 and liabilities of $21,109.
"Lives w/mom," a handwritten note on the petition said. "Has no furniture."
A later place of residence was the white van, which he often parked outside an aging strip mall in Aventura, Fla., that houses an LA Fitness, a Jewish market, a bakery and a post office.
Manuel Prado, a 56-year-old hairdresser in a salon at the mall, Shoppes at the Waterways, said he had seen Mr. Sayoc for the past several years living in the white van with distinctive stickers.
"I knew right away it was him when I saw the pictures of the van today in the news," Mr. Prado said Friday afternoon. "That van was his home. It was really smelly when he had the door open and you walked by. It was horrible. He might drive off and run an errand or something, but every morning that van was there in the parking lot."
Mr. Prado, a hairdresser for 17 years, said he also saw Mr. Sayoc frequently at LA Fitness, a large club immediately west of the shopping mall. "He would pretend to exercise — I think he just went there to take showers," Mr. Prado said. "He'd sometimes use a bicycle in the gym. I assume he was a member because they're very strict about that."
Asked whether he had ever spoken with Mr. Sayoc, Mr. Prado said: "He was very antisocial. He was a loner. I say hello to everyone here and he would never acknowledge anyone."
Patricia Mazzei and Nick Madigan reported from Aventura, Fla., and Frances Robles from Miami. Reporting was contributed by Richard Fausset from Atlanta, Alan Blinder from Boca Raton, Fla., Simon Romero from Albuquerque, Julie Turkewitz from Denver, William K. Rashbaum, Richard A. Oppel Jr., Timothy Williams, Kevin Roose, Amy Harmon, Heather Murphy and Alan Feuer from New York, and Adam Goldman from Washington.
Isaiah 47:1-15
[1]Come down, and sit in the dust, O virgin daughter of Babylon, sit on the ground: there is no throne, O daughter of the Chaldeans: for thou shalt no more be called tender and delicate.
[2]Take the millstones, and grind meal: uncover thy locks, make bare the leg, uncover the thigh, pass over the rivers.
[3]Thy nakedness shall be uncovered, yea, thy shame shall be seen: I will take vengeance, and I will not meet thee as a man.
[4]As for our redeemer, the LORD of hosts is his name, the Holy One of Israel.
[5]Sit thou silent, and get thee into darkness, O daughter of the Chaldeans: for thou shalt no more be called, The lady of kingdoms.
[6]I was wroth with my people, I have polluted mine inheritance, and given them into thine hand: thou didst shew them no mercy; upon the ancient hast thou very heavily laid thy yoke.
[7]And thou saidst, I shall be a lady for ever: so that thou didst not lay these things to thy heart, neither didst remember the latter end of it.
[8]Therefore hear now this, thou that art given to pleasures, that dwellest carelessly, that sayest in thine heart, I am, and none else beside me; I shall not sit as a widow, neither shall I know the loss of children:
[9]But these two things shall come to thee in a moment in one day, the loss of children, and widowhood: they shall come upon thee in their perfection for the multitude of thy sorceries, and for the great abundance of thine enchantments.
[10]For thou hast trusted in thy wickedness: thou hast said, None seeth me. Thy wisdom and thy knowledge, it hath perverted thee; and thou hast said in thine heart, I am, and none else beside me.
[11]Therefore shall evil come upon thee; thou shalt not know from whence it riseth: and mischief shall fall upon thee; thou shalt not be able to put it off: and desolation shall come upon thee suddenly, which thou shalt not know.
[12]Stand now with thine enchantments, and with the multitude of thy sorceries, wherein thou hast laboured from thy youth; if so be thou shalt be able to profit, if so be thou mayest prevail.
[13]Thou art wearied in the multitude of thy counsels. Let now the astrologers, the stargazers, the monthly prognosticators, stand up, and save thee from these things that shall come upon thee.
[14]Behold, they shall be as stubble; the fire shall burn them; they shall not deliver themselves from the power of the flame: there shall not be a coal to warm at, nor fire to sit before it.
[15]Thus shall they be unto thee with whom thou hast laboured, even thy merchants, from thy youth: they shall wander every one to his quarter; none shall save thee.
ISRAELITE SOCIAL REFUGEES BEING LOVED ON
Washington Post
PIJIJIAPAN, Mexico —
Everything Pedro Osmin Ulloa was wearing, from the black felt shoes with the gold buckles to the shimmery blue button-down, was as new to him as he was to Mexico.
The 30-year-old Honduran corn farmer and dogged sojourner in the
migrant caravan
was dressed head-to-toe in donated clothes. His 3-year-old son, Alexander, played with donated toys. And the rest of the family — his wife, his two brothers and a cousin — sat on the sidewalk eating beef stew and tortillas ladled out for them by residents of this bustling market town in Mexico's southern Chiapas state.
"These people have been beautiful," he said. "Everyone's helping us out."
Who is financing the caravan? There is no sign here of
George Soros
or the Russians. Instead, the responsibility of feeding, clothing and sheltering several thousand migrants has been embraced by the small Mexican towns along the route, with residents jumping into charity mode as if they are responding to a natural disaster. It was hard to walk a block in this town without seeing crates of free bottled water, tables packed with ham and cheese tortas or relief stations filled with medical supplies donated by the community to help the people on this grueling march.
"We're supporting them 100 percent," Rafael Trinidad, a municipal employee, said as he passed out sandwiches to migrants arriving along the main road. "At least here, they can feel good."
While President Trump is looking for
ways to block the caravan
at the U.S. border, Mexicans are pitching in to ease the travelers' journey. Residents along the route say they are motivated by the Catholic tradition of charity, a shared familiarity with migration to the United States and a sense of solidarity in the face of Trump's
anti-migrant rhetoric
. While they acknowledge the caravan could be a problem if it lingered, many do not seem to mind a brief stopover.
Outside her family's hardware store, Coqui Cortez, 57, had set up a table to feed migrants lemon tea and stew, using meat from her son's butcher shop. Down the street, her daughter was handing out fruit.
"My family has been very blessed," Cortez said. "And we know that we are all brothers. What God gives us, we should share.
"But we do it with a lot of love," she added.
For towns such as Pijijiapan, not far from Mexico's border with Guatemala, migration is second nature. For decades, people have hiked the back roads and ridden trains heading north. Many here say they have relatives in the United States or have migrated themselves. Central American migration to southern Mexico has caused tensions in recent years, as numbers have grown, but people here understand the poverty and violence that migrants are fleeing.
"Today it's them. Tomorrow it could be us," said Lesbia Cinco Ley, 70, who was volunteering with the Catholic church in town to distribute food.
Town officials in Pijijiapan said they began readying for the caravan's arrival on Monday, holding meetings to strategize how to attend to the migrants. Before dawn on Thursday, Cinco Ley and several others began cooking, on a mission to prepare giant vats of ham and eggs and 14,000 sandwiches. Between the municipality, churches and private citizens, town officials estimated Pijijiapan had spent nearly $8,000 for one day's worth of food.
"This is a poor town, but we still did all this," said Guadalupe Rodriguez, 48, a city councilwoman.
When the caravan comes to town, it brings much more than just migrants. It has become a traveling road show of humanitarian workers, U.N. refugee staff, religious volunteers, government bureaucrats, police and immigration officials, as well as a good chunk of Mexico's foreign media corps. It is catching no one by surprise. On the radio in Tonala, a city 50 miles north of Pijijiapan, public service announcements went out on the radio Thursday ahead of the caravan's arrival, instructing people where to donate and how to help.
Mexican nuns who have volunteered during earthquakes, tsunamis and floods flew down from Guadalajara to join the caravan. They have been treating migrants for severe sunburns and swollen, blistered feet.
"Mexican people always unite in these types of situations," said Virginia Hernandez, 32, one of the sisters. "Our Honduran brothers are in great need."
President Enrique Peña Nieto's government has vacillated on the caravan. There was an initial violent clash with federal police in riot gear at Mexico's southern border, but the group was eventually allowed to pass.
Local governments in the state of Chiapas have so far been more welcoming. The newly elected mayor of Pijijiapan, Hector Meneses Marcelino, is from the Morena party, the same as Mexico's incoming president, Andrés Manuel López Obrador, who campaigned on treating migrants less as criminals and more as human beings with rights that need to be defended. Meneses said he spent one morning this week defusing a situation in which federal immigration officials wanted to arrest Mexicans who were picking up migrant hitchhikers.
As hundreds of migrants filled the town square Thursday, crowding under donated tarps for shade from the afternoon sun, municipal staffers and police bustled around attending to them and U.N. officials handed out pamphlets on Mexican asylum laws. On the town hall's balcony, a man with a microphone called out names of migrants who had become separated from their relatives in the crush of people.
It has been difficult to get a reliable estimate of the number of people in the caravan, for several reasons: It is now dispersed among towns along the highway in Chiapas; more than 1,000 migrants have dropped out to apply for asylum in Mexico; and new people have joined in. Meneses, Pijijiapan's mayor, said 7,500 migrants had been in town, while the U.N. staff traveling with the caravan estimated it was 3,000.
Still, for small Mexican towns, the arrival of even a few thousand people is a major event. As migrants entered town on foot and by hitching rides in cars and trucks, town official Gabriel Gonzalez, 43, greeted them in the main street, directing them to various gathering points and aid stations.
"We've seen migrants here before, but never this many," he said. "It looks like all of Honduras is coming."
Psalms 76:6-12
[6]At thy rebuke, O God of Jacob, both the chariot and horse are cast into a dead sleep.
[7]Thou, even thou, art to be feared: and who may stand in thy sight when once thou art angry?
[8]Thou didst cause judgment to be heard from heaven; the earth feared, and was still,
[9]When God arose to judgment, to save all the meek of the earth. Selah.
[10]Surely the wrath of man shall praise thee: the remainder of wrath shalt thou restrain.
[11]Vow, and pay unto the LORD your God: let all that be round about him bring presents unto him that ought to be feared.
[12]He shall cut off the spirit of princes: he is terrible to the kings of the earth.
2 Peter 2:1-10
[1]But there were false prophets also among the people, even as there shall be false teachers among you, who privily shall bring in damnable heresies, even denying the Lord that bought them, and bring upon themselves swift destruction.
[2]And many shall follow their pernicious ways; by reason of whom the way of truth shall be evil spoken of.
[3]And through covetousness shall they with feigned words make merchandise of you: whose judgment now of a long time lingereth not, and their damnation slumbereth not.
[4]For if God spared not the angels that sinned, but cast them down to hell, and delivered them into chains of darkness, to be reserved unto judgment;
[5]And spared not the old world, but saved Noah the eighth person, a preacher of righteousness, bringing in the flood upon the world of the ungodly;
[6]And turning the cities of Sodom and Gomorrha into ashes condemned them with an overthrow, making them an ensample unto those that after should live ungodly;
[7]And delivered just Lot, vexed with the filthy conversation of the wicked:
[8](For that righteous man dwelling among them, in seeing and hearing, vexed his righteous soul from day to day with their unlawful deeds;)
[9]The Lord knoweth how to deliver the godly out of temptations, and to reserve the unjust unto the day of judgment to be punished:
[10]But chiefly them that walk after the flesh in the lust of uncleanness, and despise government. Presumptuous are they, selfwilled, they are not afraid to speak evil of dignities.
Clement to the Corinthians 6:1
BY [note: Gen xix 2; 2 Peter ii 6; Jude 7] hospitality and godliness was Lot saved out of Sodom, when all the country round about was [note: See Not in loc or punished with] destroyed by fire and brimstone:
Jasher 19:24-45

24 At that time the wife of Lot bare him a daughter, and he called her name Paltith, saying, Because God had delivered him and his whole household from the kings of Elam; and Paltith daughter of Lot grew up, and one of the men of Sodom took her for a wife 25 And a poor man came into the city to seek a maintenance, and he remained in the city some days, and all the people of Sodom caused a proclamation of their custom not to give this man a morsel of bread to eat, until he dropped dead upon the earth, and they did so 26 And Paltith the daughter of Lot saw this man lying in the streets starved with hunger, and no one would give him any thing to keep him alive, and he was just upon the point of death 27 And her soul was filled with pity on account of the man, and she fed him secretly with bread for many days, and the soul of this man was revived 28 For when she went forth to fetch water she would put the bread in the water pitcher, and when she came to the place where the poor man was, she took the bread from the pitcher and gave it him to eat; so she did many days 29 And all the people of Sodom and Gomorrah wondered how this man could bear starvation for so many days 30 And they said to each other, This can only be that he eats and drinks, for no man can bear starvation for so many days or live as this man has, without even his countenance changing; and three men concealed themselves in a place where the poor man was stationed, to know who it was that brought him bread to eat 31 And Paltith daughter of Lot went forth that day to fetch water, and she put bread into her pitcher of water, and she went to draw water by the poor man's place, and she took out the bread from the pitcher and gave it to the poor man and he ate it 32 And the three men saw what Paltith did to the poor man, and they said to her, It is thou then who hast supported him, and therefore has he not starved, nor changed in appearance nor died like the rest 33 And the three men went out of the place in which they were concealed, and they seized Paltith and the bread which was in the poor man's hand 34 And they took Paltith and brought her before their judges, and they said to them, Thus did she do, and it is she who supplied the poor man with bread, therefore did he not die all this time; now therefore declare to us the punishment due to this woman for having transgressed our law 35 And the people of Sodom and Gomorrah assembled and kindled a fire in the street of the city, and they took the woman and cast her into the fire and she was burned to ashes 36 And in the city of Admah there was a woman to whom they did the like 37 For a traveler came into the city of Admah to abide there all night, with the intention of going home in the morning, and he sat opposite the door of the house of the young woman's father, to remain there, as the sun had set when be had reached that place; and the young woman saw him sitting by the door of the house 38 And he asked her for a drink of water and she said to him, Who art thou? and he said to her, I was this day going on the road, and reached here when the sun set, so I will abide here all night, and in the morning I will arise early and continue my journey 39 And the young woman went into the house and fetched the man bread and water to eat and drink 40 And this affair became known to the people of Admah, and they assembled and brought the young woman before the judges, that they should judge her for this act 41 And the judge said, The judgment of death must pass upon this woman because she transgressed our law, and this therefore is the decision concerning her 42 And the people of those cities assembled and brought out the young woman, and anointed her with honey from head to foot, as the judge had decreed, and they placed her before a swarm of bees which were then in their hives, and the bees flew upon her and stung her that her whole body was swelled 43 And the young woman cried out on account of the bees, but no one took notice of her or pitied her, and her cries ascended to heaven 44 And the Lord was provoked at this and at all the works of the cities of Sodom, for they had abundance of food, and had tranquility amongst them, and still would not sustain the poor and the needy, and in those days their evil doings and sins became great before the Lord 45 And the Lord sent for two of the angels that had come to Abraham's house, to destroy Sodom and its cities.
THEY HAVE TO COME FROM THE LAND OF THE NORTH BLACK LATINOS NATIVE AMERICANS
Jeremiah 3:14-19
[14]Turn, O backsliding children, saith the LORD; for I am married unto you: and I will take you one of a city, and two of a family, and I will bring you to Zion:
[15]And I will give you pastors according to mine heart, which shall feed you with knowledge and understanding.
[16]And it shall come to pass, when ye be multiplied and increased in the land, in those days, saith the LORD, they shall say no more, The ark of the covenant of the LORD: neither shall it come to mind: neither shall they remember it; neither shall they visit it; neither shall that be done any more.
[17]At that time they shall call Jerusalem the throne of the LORD; and all the nations shall be gathered unto it, to the name of the LORD, to Jerusalem: neither shall they walk any more after the imagination of their evil heart.
[18]In those days the house of Judah shall walk with the house of Israel, and they shall come together out of the land of the north to the land that I have given for an inheritance unto your fathers.
[19]But I said, How shall I put thee among the children, and give thee a pleasant land, a goodly heritage of the hosts of nations? and I said, Thou shalt call me, My father; and shalt not turn away from me.
Deadly shooting at Kroger near Louisville investigated as possible hate crime
Published: Friday, October 26, 2018 @ 7:17 PM

JEFFERSONTOWN
—
The shooting at the Kroger in Jeffersontown near Louisville that left two people dead is being investigated as a possible hate crime, a federal official said Friday, the same day the grocery reopened to customers.
Gregory Alan Bush, 51, remains in the Louisville Metro Jail on charges accusing him of killing Maurice Stallard, 69, and Vickie Lee Jones, 67, Wednesday afternoon.
News media in Louisville have reported that a witness overheard Bush say, "whites don't kill whites" as he stood in the parking lot of the store on Taylorsville Road just after the shooting.
Flowers, cards and candles now line the store's entrance as customers come and go, WLKY-TV reported. Signs saying, "Our Hearts are with our Community" have also been placed at the entrance and throughout Kroger.
Police have not yet found any connection between the victims and Bush, the CBS affiliate reported, noting police also have said it's unclear why he targeted that particular store.
Jeffersontown police laid out the timeline this way,
2:39 p.m.:
Bush, for unknown reasons, tried to get into First Baptist Church, near the Kroger.
"He walked up to each door, kind of pulled on them very strongly. And after he pulled on the doors, he walked to each one of the three doors, and after being here probably five minutes or so he returned to his car and made a left turn onto Watterson Trail and headed toward Taylorsville Road," church administrator Billy Williams said.
At the time, there were a handful of people in the church. About an hour before, as many as 70 people had been there to attend Wednesday services.
2:54 p.m.: The shooting was reported. Police said Stallard was shopping with his grandson when Bush walked into the store and shot him in the back of the head. Bush then shot Stallard again several times as he lay on the ground, police said.
Bush put his gun away and walked out, police said, noting he pulled out his gun again in the parking lot and shot Jones several times.
According to the Louisville Courier-Journal, a man in the parking lot waiting for his wife, who was shopping inside, heard the gunfire and grabbed his revolver. That man, Ed Harrell, told the newspaper he asked the gunman what was going on. Harrell, according to the newspaper, said the gunman replied, "don't shoot me. I won't shoot you. Whites don't shoot whites."
Investigators said Bush then exchanged gunfire with another citizen before getting away. Neither was hit by the gunfire, police said.
2:56 p.m.: Officers were dispatched and arrived at the Kroger.
2:58 p.m.: Officers took Bush into custody in a nearby bank parking lot.
Jeffersontown's police chief said this week that the person who exchanged gunfire with Bush would not be charged.
Harrell has been interviewed by the FBI, according to the newspaper.
According to a statement from the U.S. Attorney's Office in the Western District of Kentucky, federal investigators are working with law enforcement in Louisville to determine how Bush will be tried, nbcnews.com reported.
Among the possible charges are "potential civil rights violations such as hate crimes," U.S. Attorney Russell Coleman told nbcnews.com.
Bush remains in jail, with a cash bond set at $5 million on two counts of murder and 10 counts of felony wanton endangerment.
Shown Here:
Public Law No: 115-102 (01/08/2018)
(This measure has not been amended since it was passed by the House on May 1, 2017. The summary of that version is repeated here.)
400 Years of African-American History Commission Act
(Sec. 3) This bill establishes the 400 Years of African-American History Commission to develop and carry out activities throughout the United States to commemorate the 400th anniversary of the arrival of Africans in the English colonies at Point Comfort, Virginia, in 1619.
The commission must:
plan programs to acknowledge the impact that slavery and laws that enforced racial discrimination had on the United States;
encourage civic, patriotic, historical, educational, artistic, religious, and economic organizations to organize and participate in anniversary activities;
assist states, localities, and nonprofit organizations to further the commemoration; and
coordinate for the public scholarly research on the arrival of Africans in the United States and their contributions to this country.
(Sec. 5) The commission may provide: (1) grants to communities and nonprofit organizations for the development of programs; (2) grants to research and scholarly organizations to research, publish, or distribute information relating to the arrival of Africans in the United States; and (3) technical assistance to states, localities, and nonprofit organizations to further the commemoration.
(Sec. 7) The commission must prepare a strategic plan and submit a final report to Congress that contains a summary of its activities, an accounting of its received and expended funds, and its recommendations.
(Sec. 8) The commission shall terminate on July 1, 2020.
(Sec. 9) All expenditures of the commission shall be made solely from donated funds.
Police: Synagogue gunman said he wanted all Jews to die
AP News
PITTSBURGH (AP) — The suspect in the mass shooting at a Pittsburgh synagogue expressed hatred of Jews during the rampage and told officers afterward that Jews were committing genocide and that he wanted them all to die, according to charging documents made public Sunday.
Robert Gregory Bowers killed eight men and three women inside the Tree of Life Synagogue on Saturday during worship services before a tactical police team tracked him down and shot him, authorities said in state and federal affidavits, which contained some unreported details on the shooting and the police response.
"I just want to kill Jews," Bowers told an officer, according to one of the documents.
Officials released the names of all 11 victims during a news conference Sunday, all of them middle-aged or elderly. The victims included a pair of brothers and a husband and wife. The oldest was 97.
Mayor Bill Peduto called it the "darkest day of Pittsburgh's history."
Calls began coming in to 911 from the synagogue just before 10 a.m. Saturday. Bowers, 46, shot one of the first two officers to respond in the hand, and the other was wounded by "shrapnel and broken glass," according to court documents.
A tactical team found Bowers on the third floor, where he shot two officers multiple times, an affidavit said.
One of the wounded officers was treated and released, and a second was expected to be released Sunday. The other two officers were expected to stay in the hospital, and one of them, a 40-year-old man, remained in critical condition Sunday.
Two other people in the synagogue were wounded by Bowers. A 61-year-old woman was listed in stable condition, and a 70-year-old man was in critical condition, according to the University of Pittsburgh Medical Center.
Bowers, who was armed with an AR-15 rifle and three handguns and used all four weapons in the attack, told an officer while he was being treated for his injuries "that he wanted all Jews to die and also that they (Jews) were committing genocide to his people," a Pittsburgh police
affidavit
said.
Bowers was charged with 11 state counts of criminal homicide, six counts of aggravated assault and 13 counts of ethnic intimidation in what the leader of the Anti-Defamation League called the deadliest attack on Jews in U.S. history.
Bowers was also charged in a 29-count
federal criminal complaint
that included counts of obstructing the free exercise of religious beliefs resulting in death — a federal hate crime — and using a firearm to commit murder. U.S. Attorney General Jeff Sessions said the charges "could lead to the death penalty."
Bowers, who underwent surgery and remained hospitalized, is scheduled for a court appearance Monday. It wasn't clear whether he had an attorney to speak on his behalf.
His neighbor, Chris Hall, said he never heard or saw anything to indicate that Bowers harbored anti-Semitic views or posed a threat. Bowers kept to himself, he said.
"The most terrifying thing is just how normal he seemed," Hall said. "I wish I knew what was going on inside his head. Maybe something could have been done. I don't know."
The victims included Melvin Wax, a retired accountant in his late 80s who was always one of the first to arrive at synagogue and among the last to leave.
"He and I used to, at the end of services, try to tell a joke or two to each other," said Myron Snider, a fellow member of New Light Congregation, which rented space in the basement of Tree of Life. "Most of the time they were clean jokes. Most of the time. I won't say all the time. But most of the time."
The nation's latest mass shooting drew condemnation and expressions of sympathy from politicians and religious leaders of all stripes. With the midterm election just over a week away, it also reignited a longstanding and bitter debate over guns.
Pope Francis led prayers for Pittsburgh on Sunday in St. Peter's Square.
"In reality, all of us are wounded by this inhuman act of violence," he said. He prayed for God "to help us to extinguish the flames of hatred that develop in our societies, reinforcing the sense of humanity, respect for life and civil and moral values."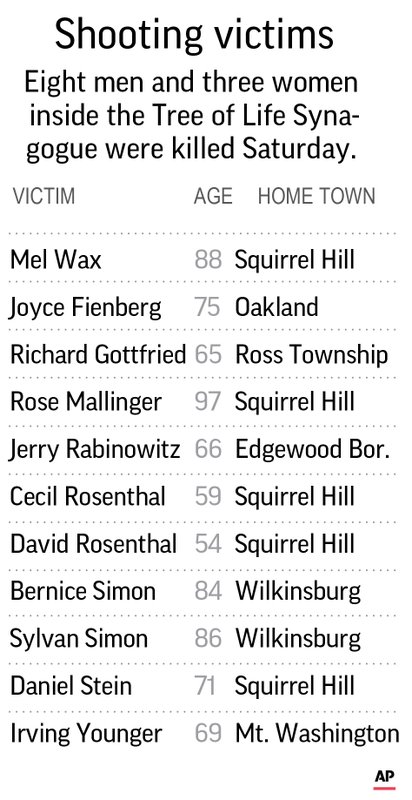 German Chancellor Angela Merkel's spokesman quoted Merkel on Twitter as offering her condolences and saying that "all of us must confront anti-Semitism with determination — everywhere."
Trump on Saturday said the outcome might have been different if the synagogue "had some kind of protection" from an armed guard, while Pennsylvania's Democratic Gov. Tom Wolf, up for re-election, noted that once again "dangerous weapons are putting our citizens in harm's way."
Calling the shooting an "evil anti-Semitic attack," Trump ordered flags at federal buildings throughout the U.S. to be flown at half-staff in respect for the victims. He said he planned to travel to Pittsburgh but offered no details.
In the city, thousands gathered for a vigil Saturday night. Some blamed the slaughter on the nation's political climate.
"When you spew hate speech, people act on it. Very simple. And this is the result. A lot of people dead. Senselessly," said Stephen Cohen, co-president of New Light Congregation, which rents space at Tree of Life.
Little was known about Bowers, who had no apparent criminal record but who is believed to have
expressed virulently anti-Semitic views
on social media. Authorities said it appears he acted alone.
The Jewish community is "an important part of the cultural and social identity of Pittsburgh, and so this was an attack upon our neighbors and upon our friends," Scott Brady, the chief federal prosecutor in western Pennsylvania, said.
The gunman targeted a building that housed three separate congregations, all of which were conducting Sabbath services when the attack began just before 10 a.m. in the tree-lined residential neighborhood of Squirrel Hill, about 10 minutes from downtown Pittsburgh and the hub of the city's Jewish community.
During the week, anyone who wanted to get inside Tree of Life synagogue had to ring the doorbell and be granted entry by staff because the front door was kept locked. Not so on Saturday — the Jewish Sabbath — when the building was open for worship.
Michael Eisenberg, the immediate past president of the Tree of Life, said synagogue officials had not gotten any threats that he knew of before the shooting. But security was a concern, he said, and the synagogue had started working to improve it.
Gunman Identified in Pittsburgh Synagogue Shooting; At Least 4 Dead
PITTSBURGH — At least four people were dead and six injured after a gunman opened fire during a service at a synagogue on Saturday morning, city officials said.
Two law enforcement officials identified the suspect as Robert D. Bowers, 46. The officials requested anonymity because they were not authorized to discuss the investigation.
Social media activity linked to Mr. Bowers suggested a history of virulent anti-Semitism, filled with slurs and references to anti-Jewish conspiracy theories.
Erika Strassburger, the city councilwoman for the district that includes the synagogue, the Tree of Life Congregation, said Mr. Bowers surrendered to the police after being barricaded in the building and was taken to the hospital.
Wendell D. Hissrich, Pittsburgh's public safety director, said four police officers were among the injured. He said those injured were in serious or critical conditions and taken to three hospitals.
He would not respond to questions at a news conference about how many people had died.
His voice catching, Mr. Hissrich said: "It's a very horrific crime scene. It's one of the worst that I've seen, and I've been on some plane crashes. It's very bad."
He said the federal authorities would lead the investigation into the shooting, which he said was being treated as a hate crime.
In January, an account an account linked to Mr. Bowers was created on Gab, a social network that bills itself as a haven for free speech. The app, which grew out of claims of anti-conservative bias on Facebook and Twitter, is a popular gathering place for alt-right activists and white nationalists whose views are unwelcome on other services.
Early members included the right-wing provocateur Milo Yiannopoulous and Andrew Anglin, the founder of the neo-Nazi Daily Stormer website.
Mr. Bowers's Gab feed was dominated by references to Jews and Judaism. Several weeks ago, Mr. Bowers' account posted a link to the website of HIAS, a Jewish nonprofit organization that helps resettle refugees, which was planning a shabbat ceremony for refugees in locations around the country. The caption read: "Why hello there HIAS! You like to bring in hostile invaders to dwell among us?"
And hours before the shooting, the account posted again: "HIAS likes to bring invaders in that kill our people. I can't sit by and watch my people get slaughtered. Screw your optics, I'm going in."
On Saturday, after Mr. Bowers was named as a suspect in the shooting, Gab confirmed that the name on the account, which was verified, matched the name of the alleged gunman.
The company took down the account, and released a
statement
saying it was cooperating with law enforcement. "Gab unequivocally disavows and condemns all acts of terrorism and violence," the statement read.
President Trump
said on Twitter
that "events in Pittsburgh are far more devastating than originally thought."
Mr. Trump later addressed reporters at Joint Base Andrews. "It's a terrible, terrible thing what's going on with hate in our country and frankly all over the world, and something has to be done," he said. "The results are very devastating, you're seeing the numbers come in."
He added that if the temple "had some kind of protection" that "it could have been a much different situation."
Gov. Tom Wolf of Pennsylvania said in a statement that "these senseless acts of violence are not who we are as Americans."
"We must all pray and hope for no more loss of life," he said. "But we have been saying 'this one is too many' for far too long. Dangerous weapons are putting our citizens in harm's way."
Joseph Miksch, a University of Pittsburgh spokesman, said three individuals were in surgery at the University of Pittsburgh Medical Center Presbyterian hospital, and a fourth was awaiting surgery. One person was treated and released earlier from the hospital.
Another person was in surgery at the University of Pittsburgh Medical Center Presbyterian Mercy hospital. All of the victims had gunshot wounds, Mr. Miksch said.
Tree of Life is in Squirrel Hill, a quiet, middle-class neighborhood in the heart of Pittsburgh's Jewish community.
Mark Joel Mahler, the rabbi emeritus at another Pittsburgh synagogue, was leaving Torah study at Rodef Shalom, about a mile from Tree of Life, when he learned of the shooting from one of his children, who works as an emergency room nurse.
The rabbi at Rodef Shalom put the synagogue on lockdown.
Unable to do anything else, the congregation went on with the Saturday morning service, praying the mi sheberach, the prayer for healing, for those being gunned down just a short walk away.
For all the congregation knew, Mr. Mahler said, Rodef Shalom might have been the next target.
"The service continued," he said. "There was a pall over over everyone. No question."
Mr. Mahler said that on Saturday mornings there are three services at the the Tree of Life, one led by the Tree of Life congregation, another led by the Or L'Simcha congregation and another led by the New Light Congregation.
Rabbi Jeffrey Myers, who leads the congregation,
said in a blog post in July
that the government was unable to pass important laws, such as gun control, to protect citizens.
"Despite continuous calls for sensible gun control and mental health care, our elected leaders in Washington knew that it would fade away in time," he wrote. "Unless there is a dramatic turnaround in the midterm elections, I fear that that the status quo will remain unchanged, and school shootings will resume."
About 26 percent of the Pittsburgh area's Jewish households are in Squirrel Hill, while another 31 percent of Jewish households are largely located in neighborhoods around there, according to the report, which was carried out on behalf of the Jewish Federation of Greater Pittsburgh.
About 48 percent of Jewish children in greater Pittsburgh live in Squirrel Hill, according to the study.
Shortly before 11 a.m., residents could still hear loud pops of gunfire. The authorities told residents to stay inside.
Ben Opie, 55, who can see the synagogue from his backyard, said his wife was about to leave the house on Saturday morning to do some volunteer work when SWAT officers approached their home and said there was an active shooter in the synagogue.
"They chased my wife inside," he said. "They just said get in the house."
In New York and Los Angeles, the police said there was no "nexus" between the shooting in Pittsburgh and those cities but that the authorities were taking precautionary measures until more is known about the shooting.
"The N.Y.P.D. is deploying heavy weapons teams, including the officers from the Critical Response Command and the Strategic Response Team, to houses of worship across the City," the New York police said.
Luke 21:1-38
[1]And he looked up, and saw the rich men casting their gifts into the treasury.
[2]And he saw also a certain poor widow casting in thither two mites.
[3]And he said, Of a truth I say unto you, that this poor widow hath cast in more than they all:
[4]For all these have of their abundance cast in unto the offerings of God: but she of her penury hath cast in all the living that she had.
[5]And as some spake of the temple, how it was adorned with goodly stones and gifts, he said,
[6]As for these things which ye behold, the days will come, in the which there shall not be left one stone upon another, that shall not be thrown down.
[7]And they asked him, saying, Master, but when shall these things be? and what sign will there be when these things shall come to pass?
[8]And he said, Take heed that ye be not deceived: for many shall come in my name, saying, I am Christ; and the time draweth near: go ye not therefore after them.
[9]But when ye shall hear of wars and commotions, be not terrified: for these things must first come to pass; but the end is not by and by.
[10]Then said he unto them, Nation shall rise against nation, and kingdom against kingdom:
[11]And great earthquakes shall be in divers places, and famines, and pestilences; and fearful sights and great signs shall there be from heaven.
[12]But before all these, they shall lay their hands on you, and persecute you, delivering you up to the synagogues, and into prisons, being brought before kings and rulers for my name's sake.
[13]And it shall turn to you for a testimony.
[14]Settle it therefore in your hearts, not to meditate before what ye shall answer:
[15]For I will give you a mouth and wisdom, which all your adversaries shall not be able to gainsay nor resist.
[16]And ye shall be betrayed both by parents, and brethren, and kinsfolks, and friends; and some of you shall they cause to be put to death.
[17]And ye shall be hated of all men for my name's sake.
[18]But there shall not an hair of your head perish.
[19]In your patience possess ye your souls.
[20]And when ye shall see Jerusalem compassed with armies, then know that the desolation thereof is nigh.
[21]Then let them which are in Judaea flee to the mountains; and let them which are in the midst of it depart out; and let not them that are in the countries enter thereinto.
[22]For these be the days of vengeance, that all things which are written may be fulfilled.
[23]But woe unto them that are with child, and to them that give suck, in those days! for there shall be great distress in the land, and wrath upon this people.
Genesis 35:10-11
[10]And God said unto him, Thy name is Jacob: thy name shall not be called any more Jacob, but Israel shall be thy name: and he called his name Israel.
[11]And God said unto him, I am God Almighty: be fruitful and multiply; a nation and a company of nations shall be of thee, and kings shall come out of thy loins;
Matthew 13:18,20-21
[18]Hear ye therefore the parable of the sower.
[20]But he that received the seed into stony places, the same is he that heareth the word, and anon with joy receiveth it;
[21]Yet hath he not root in himself, but dureth for a while: for when tribulation or persecution ariseth because of the word, by and by he is offended.
Ecclesiasticus 40:15,27
[15]The children of the ungodly shall not bring forth many branches: but are as unclean roots upon a hard rock.
[27]The fear of the Lord is a fruitful garden, and covereth him above all glory.
Luke 21:1-38 cont
[24]And they shall fall by the edge of the sword, and shall be led away captive into all nations: and Jerusalem shall be trodden down of the Gentiles, until the times of the Gentiles be fulfilled.
[25]And there shall be signs in the sun, and in the moon, and in the stars; and upon the earth distress of nations, with perplexity; the sea and the waves roaring;
[26]Men's hearts failing them for fear, and for looking after those things which are coming on the earth: for the powers of heaven shall be shaken.
[27]And then shall they see the Son of man coming in a cloud with power and great glory.
[28]And when these things begin to come to pass, then look up, and lift up your heads; for your redemption draweth nigh.
[29]And he spake to them a parable; Behold the fig tree, and all the trees;
[30]When they now shoot forth, ye see and know of your own selves that summer is now nigh at hand.
[31]So likewise ye, when ye see these things come to pass, know ye that the kingdom of God is nigh at hand.
[32]Verily I say unto you, This generation shall not pass away, till all be fulfilled.
[33]Heaven and earth shall pass away: but my words shall not pass away.
[34]And take heed to yourselves, lest at any time your hearts be overcharged with surfeiting, and drunkenness, and cares of this life, and so that day come upon you unawares.
[35]For as a snare shall it come on all them that dwell on the face of the whole earth.
[36]Watch ye therefore, and pray always, that ye may be accounted worthy to escape all these things that shall come to pass, and to stand before the Son of man.
[37]And in the day time he was teaching in the temple; and at night he went out, and abode in the mount that is called the mount of Olives.
[38]And all the people came early in the morning to him in the temple, for to hear him.
2 Corinthians 4:1-18
[1]Therefore seeing we have this ministry, as we have received mercy, we faint not;
[2]But have renounced the hidden things of dishonesty, not walking in craftiness, nor handling the word of God deceitfully; but by manifestation of the truth commending ourselves to every man's conscience in the sight of God.
[3]But if our gospel be hid, it is hid to them that are lost:
[4]In whom the god of this world hath blinded the minds of them which believe not, lest the light of the glorious gospel of Christ, who is the image of God, should shine unto them.
[5]For we preach not ourselves, but Christ Jesus the Lord; and ourselves your servants for Jesus' sake.
[6]For God, who commanded the light to shine out of darkness, hath shined in our hearts, to give the light of the knowledge of the glory of God in the face of Jesus Christ.
[7]But we have this treasure in earthen vessels, that the excellency of the power may be of God, and not of us.
[8]We are troubled on every side, yet not distressed; we are perplexed, but not in despair;
[9]Persecuted, but not forsaken; cast down, but not destroyed;
[10]Always bearing about in the body the dying of the Lord Jesus, that the life also of Jesus might be made manifest in our body.
[11]For we which live are alway delivered unto death for Jesus' sake, that the life also of Jesus might be made manifest in our mortal flesh.
[12]So then death worketh in us, but life in you.
[13]We having the same spirit of faith, according as it is written, I believed, and therefore have I spoken; we also believe, and therefore speak;
[14]Knowing that he which raised up the Lord Jesus shall raise up us also by Jesus, and shall present us with you.
[15]For all things are for your sakes, that the abundant grace might through the thanksgiving of many redound to the glory of God.
[16]For which cause we faint not; but though our outward man perish, yet the inward man is renewed day by day.
[17]For our light affliction, which is but for a moment, worketh for us a far more exceeding and eternal weight of glory;
[18]While we look not at the things which are seen, but at the things which are not seen: for the things which are seen are temporal; but the things which are not seen are eternal.