As more and More Latinos bail on Latin America. The Most high has a surprise in store for everybody-
a Comet.
The Comet striking off of the coast near Puerto Rico. We believe right off the deepest point in the Atlantic known as Milwaukee Deep. This will gut the Eastern States to the point of eastern Wisconsin (the irony is the Milwaukee Deep Disaster will flood Milwaukee, Wisconsin USA and totally destroy the city). As a result of this comet, the new Madrid Fault will bust through the great lakes and this will merge the great Lakes with the Gulf of Mexico.
This will totally destroy the States of Illinois, Mississippi, Florida, and Louisiana. This will turn Michigan into Islands, and flood eastern Wisconsin over. Southern Ontario will have Why so because these were the states were The Hebrews, and the Israelites were treated the worst in terms of brute White beasts attacking them. Texas, Arkansas, Missouri, Tennessee, Alabama, Georgia Kentucky, Indiana, South Carolina, North Carolina, Virginia, Maryland will also lose area for their Socioeconomic and Pseudo Scientific Racism. California and New Jersey will be mostly destroyed for practicing Racist Eugenics via Humanitarianism.
2 Maccabees 5:9-14
[9]Thus he that had driven many out of their country perished in a strange land, retiring to the Lacedemonians, and thinking there to find succour by reason of his kindred:
[10]And he that had cast out many unburied had none to mourn for him, nor any solemn funerals at all, nor sepulchre with his fathers.
[11]Now when this that was done came to the king's car, he thought that Judea had revolted: whereupon removing out of Egypt in a furious mind, he took the city by force of arms,
[12]And commanded his men of war not to spare such as they met, and to slay such as went up upon the houses.
[13]Thus there was killing of young and old, making away of men, women, and children, slaying of virgins and infants.
[14]And there were destroyed within the space of three whole days fourscore thousand, whereof forty thousand were slain in the conflict; and no fewer sold than slain.
Trump administration diverted nearly $10 million from FEMA to ICE detention program, according to DHS document
WASHINGTON POST
The Trump administration appears to have diverted nearly $10 million in funding for the Federal Emergency Management Agency, or FEMA, to U.S. Immigration and Customs Enforcement, the agency at the forefront of the president's zero-tolerance immigration policy that led to the separation of hundreds of children, some as young as 18 months old, from their parents.
The reallocation of public money is documented in a "Transfer and Reprogramming" notification prepared this fiscal year by the Department of Homeland Security, the parent department of ICE, as the agency is known. It was made public by Democratic Sen. Jeff Merkley of Oregon in
an appearance
Tuesday on "The Rachel Maddow Show," as Hurricane Florence barreled toward the Carolinas.
Merkley's office provided the 39-page budget document independently to The Washington Post. It shows that DHS requested that about $9.8 million going toward FEMA efforts such as "Preparedness and Protection" and "Response and Recovery" be funneled instead into ICE coffers, specifically underwriting "Detention Beds" and the agency's "Transportation and Removal Program." The U.S. Secret Service was also a beneficiary of the reallocation.
"This is a scandal," Merkley said in a statement. "At the start of hurricane season — when American citizens in Puerto Rico and the U.S. Virgin Islands are still suffering from FEMA's inadequate recovery efforts — the administration transferred millions of dollars away from FEMA. And for what? To implement their profoundly misguided 'zero-tolerance' policy. It wasn't enough to rip thousands of children out of the arms of their parents — the administration chose to partly pay for this horrific program by taking away from the ability to respond to damage from this year's upcoming and potentially devastating hurricane season."
The "monster," as Gov. Roy Cooper of North Carolina labeled the storm gathering strength off the southeastern Atlantic coast, threatens enormous damage and a replay of last year's devastating hurricane season, when FEMA was woefully unprepared for the catastrophe that befell Puerto Rico, according to an
after-action report
by the agency. Meanwhile, a year after Hurricane Harvey brought the worst rainstorm in the nation's history to the Houston area, 50 percent of lower-income respondents in a
survey
conducted this summer said they were not getting the help they needed.
As Trump pledged Tuesday that "we are sparing no expense" in preparing for Florence, DHS did not dispute the authenticity of the document in a statement posted on Twitter. The department acknowledged that funds were redirected but said the transfer did not jeopardize relief efforts.
The memorandum sheds light on the immigration-enforcement operations enhanced by the FEMA funds. Without the transfer, the document notes, "ICE will not be able to fulfill its adult detention requirements in FY 2018." Insufficient funding, DHS observes, could prevent the agency from deporting people who violate the country's immigration laws while requiring ICE to "release any new book-ins and illegal border violators," to "reduce its current interior enforcement operations" and to limit "criminal alien and fugitive arrests."
These new limitations, the department warns, "would pose a significant risk to public safety and national security by permitting known offenders to remain at large."
The precise timing of the reallocation is unclear, as the document, which refers to Fiscal Year 2018, does not include an exact date. The document's file information indicates that it was created in late June, the first month of the Atlantic hurricane season. A Senate aide told The Post that the fiscal notice appears to have been written in June, sent to Congress at the end of the month and approved sometime between July and September.
DHS is required to notify the House and Senate appropriations committees of reprogramming of funds in excess of $5 million, according to a 2009 appropriations measure. Merkley, who is a member of the Senate Appropriations Committee but not the homeland security subcommittee, told Maddow that the document he released was "the notification document that would have come to the Appropriations Committee, specifically to the chair of [the subcommittee on] homeland security."
The Democratic lawmaker said he came across the document in the course of his efforts to try "to stop child separations," which included his
attempt in early June
to visit a detention facility in South Texas. He linked the transfer of funds to the zero-tolerance policy announced by Attorney General Jeff Sessions in May.
"Clearly they were saying, 'If we're going to start arresting, as a criminal matter, and detaining people, we need to have much bigger detention camps; oh well, we better get some more money to do that,'" Merkley said Tuesday evening on the MSNBC show. He also suggested that the financial pressure was linked to this month's announcement by the administration of
new regulations
designed to enable expanded detention of families who cross into the United States without legal status.
As for FEMA, the notifying document states that the "Mission impact" will be "minimized," as the agency will scale back training, travel, public engagement sessions and IT security support and infrastructure maintenance.
A spokesman for DHS responded to Merkley's allegations in a series of tweets late Tuesday, acknowledging the budgetary reallocation but arguing that the funds in question came from "FEMA's routine operating expenses" and "could not have been used for hurricane response due to appropriations limitations."
Former DHS and FEMA officials, however, disputed the spokesman's claim that the money in question was distinct from "hurricane response," saying these funds were critical to the agency's overall mission of storm preparedness and response, even if they were not explicitly earmarked for disaster relief.
"Anyone who knows FEMA knows it's parsing words," Moira Whelan, a former chief of staff in the Office of Gulf Coast Rebuilding at Homeland Security's National Joint Information Center, told The Post. The disaster relief funding left untouched by the transfer covers post-storm assistance and the rebuilding of public structures, while "Response and Recovery" money tapped for the transfer pays for plans, logistics, supply-chain management and after-action reports that seek to improve on previous seasons, said Whelan, who is also a former official with the State Department and the U.S. Agency for International Development.
The nearly $10 million diverted to ICE comes from a roughly $1 billion operating budget that supports much of FEMA's efforts beyond the immediate response to a declared emergency, said a former FEMA official who asked not to be identified because he still does business with the agency. That includes staff, meetings and exercises, he said — all crucial to readiness for the next hurricane season. One example, the former official said, was the network of warehouses operated by FEMA across the country, which requires staff and supplies.
Trump said Tuesday that the government was "absolutely, totally prepared" for the hurricane bearing down on the Carolinas. Florence is
expected to make landfall
in southeastern North Carolina on Friday as a Category 3 or 4 hurricane, bringing destructive winds and leaving flooding in its wake.
"We're ready. FEMA is ready. Everybody is ready," Trump
said
in brief remarks at Joint Base Andrews.
Later in the day, after a briefing on the hurricane, the president affirmed: "The safety of the American people is my absolute highest priority. We are sparing no expense." He also used the occasion to trumpet as an "incredible, unsung success" his administration's response to Hurricane Maria, which
caused nearly 3,000 deaths
on Puerto Rico, a U.S. territory already badly damaged by Hurricane Irma weeks earlier.
It was "one of the best jobs that's ever been done with respect to what this is all about," Trump said.
American decline: Open pools of raw sewage in the richest country in the world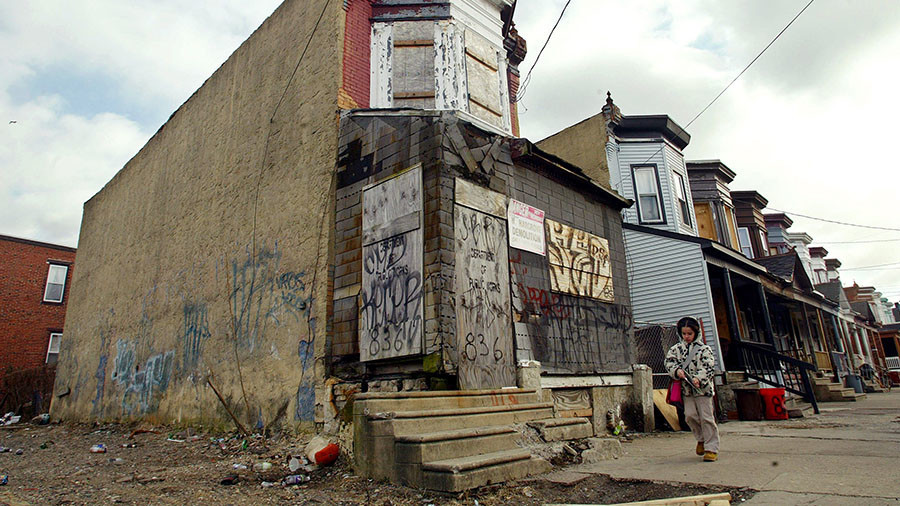 As the wealthy continue sucking the country dry, the question now isn't if the US will cease to provide a decent standard of living for its people. Rather it is how many people will be sacrificed on the way down.
In America, the richest nation in the world when measured by raw GDP, children are getting sick from living by open pools of raw sewage. This was one of many shocking
findings
by the United Nations late last year, following a two-week investigation into extreme poverty in the US.
The UN report was issued last December by a team of investigators who visited California, Alabama, Georgia, Puerto Rico, West Virginia and Washington DC.
"The United States is one of the world's richest, most powerful and technologically innovative countries; but neither its wealth, nor its power, nor its technology is being harnessed to address the situation in which 40 million people continue to live in poverty,"
wrote
Philip Alston, the UN special rapporteur on extreme poverty and human rights.
Read more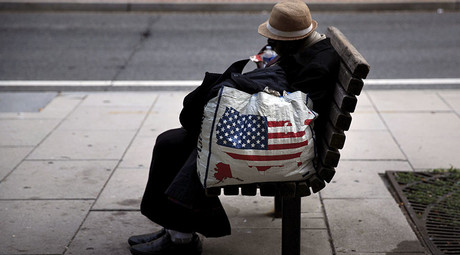 He continued, "I met with many people barely surviving on Skid Row in Los Angeles, I witnessed a San Francisco police officer telling a group of homeless people to move on but having no answer when asked where they could move to, I heard how thousands of poor people get minor infraction notices which seem to be intentionally designed to quickly explode into unpayable debt, incarceration, and the replenishment of municipal coffers. I saw sewage-filled yards in states where governments don't consider sanitation facilities to be their responsibility, I saw people who had lost all of their teeth because adult dental care is not covered by the vast majority of programs available to the very poor, I heard about soaring death rates and family and community destruction wrought by opioids, and I met with people in Puerto Rico living next to a mountain of completely unprotected coal ash which rains down upon them, bringing illness, disability and death."
The sewage-filled yards were found in poor areas like Lowndes County, Alabama, where many people cannot afford to install septic tanks, causing sewage to pool by their homes. This untreated waste creates the potential for all kinds of diseases. In Lowndes, it has led to the
proliferation of hookworm
, a parasitic disease of the intestines commonly found in the world's
poorest developing countries
.
The discovery of third world levels of poverty and disease in the richest and most powerful country in the world, shocking as it may be, is only part of the story. The UN findings are in keeping with the downward spiral of America.
America's Decline
Spending time in Western Europe, as I have done the last several months, provides some serious perspective on America's decline. In most European countries, like Germany for example, public transportation works efficiently and there is a social safety net. While homelessness is a problem, it's nowhere near as rampant as in the US and usually seems to be associated with addiction. People in Europe are generally much healthier and happier, housing and food and higher education are affordable and people don't spend all their time working – they are able to take vacations and enjoy life in a way the vast majority of Americans are not. Europeans are typically entitled to lengthy paid maternity leave, whereas in the US working class women are forced to return to work in as little as
two weeks
.
Read more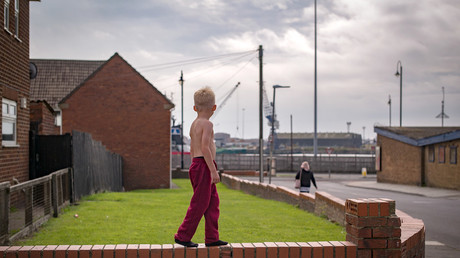 Meanwhile, New York's Subway system is decaying due to disinvestment and corruption. Last summer a train stalled, leaving passengers in the dark with no air conditioning for an hour.
"As the heat of packed-together bodies fogged the windows, passengers beat on the walls and clawed at the doors in a scene from a real-life horror story,"
reported
the New York Times. In Washington DC, the nation's capital, the Metro is always late and totally unreliable, with train
fires
becoming a regular occurrence while Amtrak trains experience routine
derailments
. These are just some examples of infrastructure decay. The list goes on: bridges are crumbling, schools are shuttered. In Baltimore dozens of schools had
no heat
during record freezing temperatures this winter. The only thing America's leadership seems capable of investing in is prisons and war.
In America, the old devour the young. Young Americans are struggling under the weight of
$1.4 trillion
in student loan debt. But don't let that confuse you about the state of America's elderly. They too aren't taken care of. In many European countries people are entitled to pensions and they can retire comfortably. In the US some have to
work until they die
as Social Security isn't enough to live on and Medicare doesn't quite cover all of their medical needs. As for healthcare, as many as
45,000 people a year die
because they cannot access it.
And then there is the issue of water. There are
over 3,000 counties
across America whose water supplies have lead levels higher than in Flint, Michigan, and nothing substantial is being done to address the problem.
Haves and Have nots
All this is taking place in a nation where inequality continues to climb. There are counties a few miles apart from one another where the life expectancy drops by 20 years.
Researchers say the life expectancy gap, as high as
20.1 years
between rich and poor counties, resembles the gap seen between low-income countries versus rich countries. In other words, there are pockets of the US that have the characteristics of third world countries. It seems that the US in many ways, after having destroyed other parts of the world, has turned inward on itself, sacrificing its most vulnerable citizens at the altar of capitalism.
Bernie Sanders made an issue of this during his presidential bid, often noting in his stump speeches the dramatic difference in lifespan in McDowell County, West Virginia, where men live to about 64, and six hours away in Fairfax, Virginia, where the average lifespan shoots up to 82.
Perhaps none of this should come as a shock in a country where the rich are getting richer, the poor get poorer and the middle class is collapsing, with most Americans living
one emergency away
from financial ruin.
Joel 3:3
[3]And they have cast lots for my people; and have given a boy for an harlot, and sold a girl for wine, that they might drink.
SAN FRANCISCO —
A California man has been arrested for arranging for his 14-year-old daughter to marry a neighbor in exchange for $16,000, 100 cases of beer and several cases of meat, police said.
Authorities in Greenfield, a farming community on California's central coast, said they learned of the deal after Marcelino de Jesus Martinez, 36, asked them for help getting back his daughter after payment wasn't made.
Martinez was arrested Sunday. He's scheduled to be arraigned Wednesday in Monterey County Superior Court on felony charges of procuring a child under age 16 for lewd and lascivious acts, statutory rape and cruelty to a child by endangering health, according to the prosecutor.
The prosecutor's office said Martinez did not have an attorney of record yet.
Police also arrested the intended groom, 18-year-old Margarito de Jesus Galindo, on suspicion of statutory rape, but prosecutors have not decided whether to charge him. Police did not return a message Tuesday for information on whether Galindo had an attorney.
Such marriages are not unusual Martinez is a member of an indigenous Mexican Trique community. Greenfield police Chief Joe Grebmeier said the case highlights an issue confronting local authorities in that arranged marriages with girls as young as 12 are not uncommon among the Trique.
He hesitated to say the girl was being sold into marriage, as the money was intended as a dowry and the beer and meat were for the wedding. But, he added, the arrangement violates California law, where the age of consent for marriage is 18, and with parental approval, 16.
NBC News' Dara Brown reported that the deal specifically involved 100 cases of Corona beer, 50 cases of Modelo, six bottles of wine, 50 cases of soft drinks and 50 cases of Gatorade.
"This is not a traditional trafficking case because there is no force or coercion in this," Grebmeier said. "We're aware of the cultural issues here, but state law trumps cultural sensitivity."
Grebmeier is planning to meet with leaders in the Trique community to talk about how some cultural practices might conflict with California law.
"Initially, when everyone was talking to us, we learned a lot because they had no realization that it's against the law — an arranged marriage for money with a minor," Grebmeier said.
C'mon — what's not to like?

Hoof it over to Facebook to join the weird news herd.
Many Trique immigrants are part of the stream of farmworkers who tend California's fruit and vegetable fields, living in communities scattered along the coast and the state's agricultural Central Valley. The often speak only Trique, an indigenous language, and come from villages with cultural traditions that set them apart from other Mexicans.
Service organizations have been working to help them integrate, said Jonathan Fox, a professor of Latin American and Latino Studies at the University of California, Santa Cruz, who has worked extensively with indigenous immigrants.
"This is certainly not the first such case I've heard of," he said of the marriage involving an underage girl.
No 'for sale' sign
Members of the indigenous community protested the news reports and public discussion of the case, saying they were painted in a very negative light.
"No one put a 'for sale' sign on this girl, and that's how it sounds," said Rufino Dominguez, an indigenous immigrant and head of the Greenfield office of the Binational Center for the Development of the Indigenous Communities.
He said arranging marriages and exchanging goods that will contribute to the wedding party are common, but money is not usually part of the transaction. When that does happen, it's not seen well within the community, he said.
"Most people don't agree with it," he said.
Police learned of the deal in mid-December, when Martinez reported his daughter as a runaway. Further investigation found the girl had not fled but moved in with Galindo as part of the marriage arrangement. Grebmeier said the girl was a willing party to the deal.
Martinez would face at least a year in prison if convicted. Because he's an undocumented immigrant, he's under an immigration hold and is not eligible for bail
Joel 3:1-3
[1]For, behold, in those days, and in that time, when I shall bring again the captivity of Judah and Jerusalem,
[2]I will also gather all nations, and will bring them down into the valley of Jehoshaphat, and will plead with them there for my people and for my heritage Israel, whom they have scattered among the nations, and parted my land.
[3]And they have cast lots for my people; and have given a boy for an harlot, and sold a girl for wine, that they might drink.
1 Corinthians 12:7

King James Version (KJV)
7

But the manifestation of the Spirit is given to every man to profit withal.
Closing Prayer: Cast Away and bust up the devices of them enemy into the biggest pig possible!
Psalm 21:11
Though they intended evil against You And devised a plot, They will not succeed.
Psalm 37:7
Rest in the LORD and wait patiently for Him; Do not fret because of him who prospers in his way, Because of the man who carries out wicked schemes.
"Do not grant, O LORD, the desires of the wicked; Do not promote his evil device, that they not be exalted. Selah.
Jeremiah 18:12
"But they will say, 'It's hopeless! For we are going to follow our own plans, and each of us will act according to the stubbornness of his evil heart.'
Psalm 36:4
He plans wickedness upon his bed; He sets himself on a path that is not good; He does not despise evil.
Proverbs 6:14
Who with perversity in his heart continually devises evil, Who spreads strife.
Proverbs 14:22
Will they not go astray who devise evil? But kindness and truth will be to those who devise good.
Proverbs 16:30
He who winks his eyes does so to devise perverse things; He who compresses his lips brings evil to pass.
Proverbs 24:8
One who plans to do evil, Men will call a schemer.
Isaiah 32:7
As for a rogue, his weapons are evil; He devises wicked schemes To destroy the afflicted with slander, Even though the needy one speaks what is right.
Ezekiel 11:2
He said to me, "Son of man, these are the men who devise iniquity and give evil advice in this city,
Micah 2:1
Woe to those who scheme iniquity, Who work out evil on their beds! When morning comes, they do it, For it is in the power of their hands.
Esther 9:25
But when it came to the king's attention, he commanded by letter that his wicked scheme which he had devised against the Jews, should return on his own head and that he and his sons should be hanged on the gallows.
Job 5:12
"He frustrates the plotting of the shrewd, So that their hands cannot attain success.
Psalm 10:2
In pride the wicked hotly pursue the afflicted; Let them be caught in the plots which they have devised.
Psalm 33:10
The LORD nullifies the counsel of the nations; He frustrates the plans of the peoples.
Proverbs 6:18
A heart that devises wicked plans, Feet that run rapidly to evil,
Proverbs 12:2
A good man will obtain favor from the LORD, But He will condemn a man who devises evil.