Update the Ban has been lifted, thank you Jesus.

WHILE QUEEN ESTHER FREES YOU FROM FEMA CAMPS THEY WILL SETUP A FAKE EZEKIEL 38-39 WAR
What if I told you all of the Prophecies and Events are coming together.





ALL BELOW IS SUPPLEMENTAL SUGGESTED READING FOR THE SERMON:
Mark 13:22
King James Version (KJV)
22

For false Christs and false prophets shall rise, and shall shew signs and wonders, to seduce, if it were possible, even the elect.
2 Thessalonians 2:1-12
King James Version (KJV)
2

Now we beseech you, brethren, by the coming of our Lord Jesus Christ, and by our gathering together unto him,
2

That ye be not soon shaken in mind, or be troubled, neither by spirit, nor by word, nor by letter as from us, as that the day of Christ is at hand.
3

Let no man deceive you by any means: for that day shall not come, except there come a falling away first, and that man of sin be revealed, the son of perdition;
4

Who opposeth and exalteth himself above all that is called God, or that is worshipped; so that he as God sitteth in the temple of God, shewing himself that he is God.
5

Remember ye not, that, when I was yet with you, I told you these things?
6

And now ye know what withholdeth that he might be revealed in his time.
7

For the mystery of iniquity doth already work: only he who now letteth will let, until he be taken out of the way.
8

And then shall that Wicked be revealed, whom the Lord shall consume with the spirit of his mouth, and shall destroy with the brightness of his coming:
9

Even him, whose coming is after the working of Satan with all power and signs and lying wonders,
10

And with all deceivableness of unrighteousness in them that perish; because they received not the love of the truth, that they might be saved.
11

And for this cause God shall send them strong delusion, that they should believe a lie:
12

That they all might be damned who believed not the truth, but had pleasure in unrighteousness.
Romans 1:26-27
King James Version (KJV)
26

For this cause God gave them up unto vile affections: for even their women did change the natural use into that which is against nature:
27

And likewise also the men, leaving the natural use of the woman, burned in their lust one toward another; men with men working that which is unseemly, and receiving in themselves that recompence of their error which was meet.
YouTube Hosted Graphic Images Of Bestiality For Months: WHILE TAKING DOWN AND SHADOWBANNING BIBLICAL VIDEOS ON OUR VARIOUS ACCOUNTS HERE AT RISE UP AND COME OUT CHURCH.
Video thumbnails of women engaging in sexual acts with dogs and horses were easily searchable on YouTube as of Monday morning. Some racked up millions of views.
There is bestiality on YouTube, and it's surprisingly easy to find. It's also surprisingly prevalent, but not in videos — in video thumbnails, some of which have racked up millions of views.
Search YouTube for "girl and her horse" and the platform will return more than 12 million results. Among the first 20 results are four videos promoted with thumbnails of women seemingly engaged in sexual acts with horses. The top search return for the query? A video titled "Fantastic Girl and Her Horse in My Village" promoted with a half-blurred thumbnail of a woman being mounted by a horse with an erection. Created by an account called "SC Today," the video has amassed nearly 35,000 views in the four weeks it's been on YouTube.
One such thumbnailed video had amassed 2.3 million views at the time of this writing.
The "Fantastic Girl and Her Horse in My Village" video itself does not feature any bestiality. It's largely footage of a woman bathing and brushing a horse. But clicking on it triggers YouTube's recommendation engine, which promptly serves up dozens more animal videos — many with thumbnails featuring graphic bestiality. One such thumbnailed video, published by a channel called "ALL ANIMAL," had amassed 2.3 million views at the time of this writing.
Most of these bestiality-thumbed videos — which appear to originate in South Asian countries like Cambodia — feature women in sundresses playing with or caring for animals like horses and dogs; some feature upskirt angles and crotch shots of women as they bathe or brush horses and dogs. And there are many. Without needing to search, YouTube's recommendation algorithm pointed BuzzFeed News to dozens of accounts, each with multiple videos featuring explicit bestiality thumbnails.
A senior employee at YouTube tasked with building out the company's intelligence desk (a new unit that seeks to identify controversial and rule-violating content trends on the platform) told BuzzFeed News that these graphic thumbnail videos appear similar to those made by a Cambodian content farm that was kicked off the platform in the fall of 2017. The employee noted that in its previous iteration, the content farm used provocative thumbnails (though none featuring bestiality) to promote titillating videos of women petting snakes.
The employee told BuzzFeed News that the Cambodian accounts were likely trying to spike their view counts in hopes of later monetizing them (the vast majority of the accounts BuzzFeed News discovered had not been monetized at the time they were terminated). The employee explained that YouTube's thumbnail monitoring technology — which, at present, is not as thorough as its video monitoring technology — didn't catch bestiality thumbnails as they don't necessarily have the same characteristics as typical pornography (often those in the videos are mostly clothed and the videos lack certain signifiers like skin). The use of bestiality images highlights how the Cambodian content farm tactics are evolving, the employee added.
"These images are abhorrent to us and have no place on YouTube."
"These images are abhorrent to us and have no place on YouTube," a spokesperson for the company told BuzzFeed News. "We have strict policies against misleading thumbnails, and violative content flagged to us by BuzzFeed has been removed. We're working quickly to do more than ever to tackle abuse on our platform, and that includes developing better tools for detecting inappropriate and misleading metadata and thumbnails so we can take fast action against them."
The bestiality-thumbed videos discovered by BuzzFeed News are largely variations on "A girl and horse" or "Lovely smart girl playing baby cute dogs on rice" and often use similar or identical photos. Some appear realistic; others are obviously photoshopped. All of them appear to point the way to pornographic videos.
Others appear to mix disturbing kids videos with the graphic thumbnail content.
A YouTube account called "SC Daily," which features a number of bestiality thumbnail videos, also includes toy-unboxing videos, "learn colors" videos, fake Peppa Pig clips, and other content intended for children.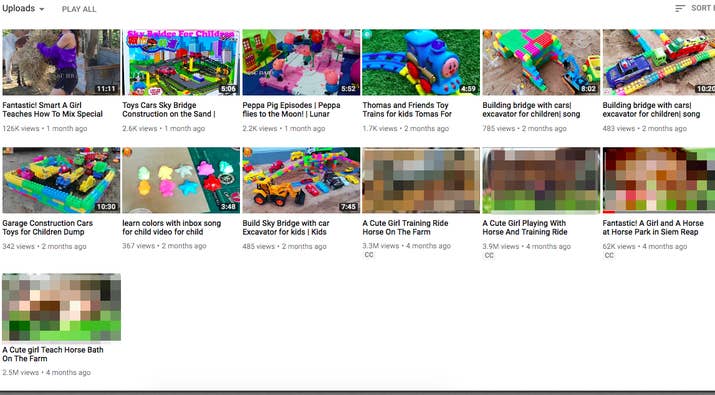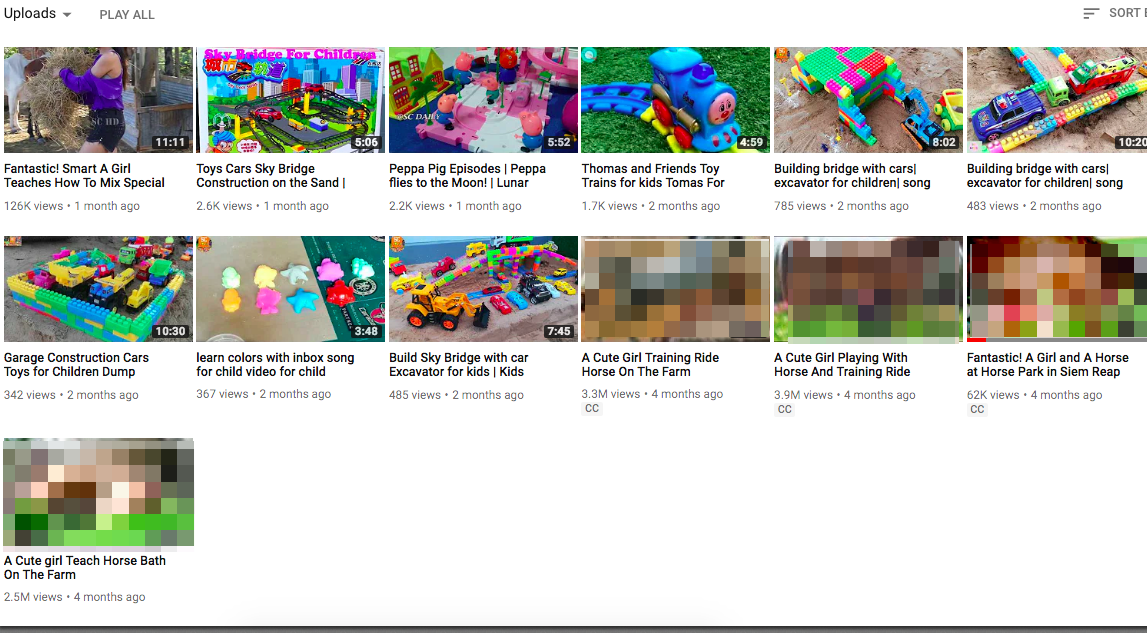 Some of these bestiality-thumbed videos have garnered millions of views in the months they've been on YouTube. They don't appear to have been monetized, which may be part of the reason why they went undetected by YouTube. That said, they were reported to YouTube via its @TeamYouTube Twitter account on Thursday, April 19. The account replied the same day, saying they had "shared this with the right people." On the morning of April 23, many videos with the same thumbnails were easily searchable.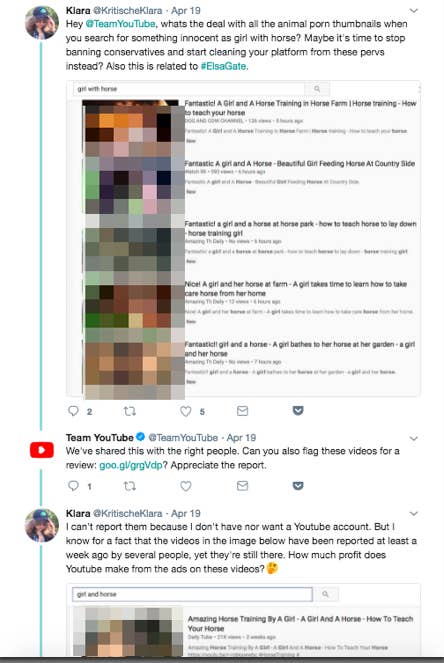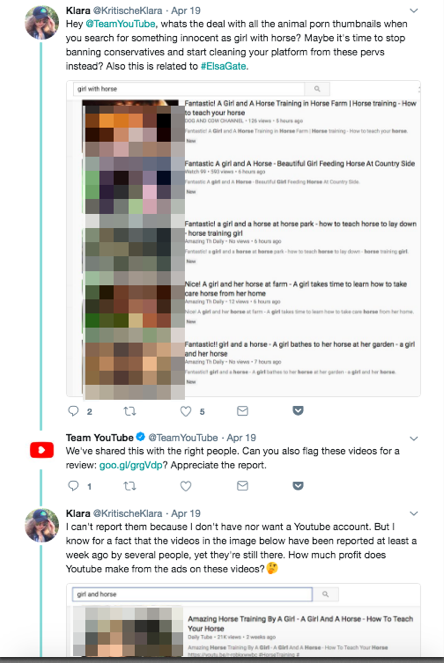 Bestiality thumbnails are the latest in a series of missteps for YouTube, which has had ongoing difficulties policing its platform for content that violates its rules. In November 2017, YouTube faced criticism following reports of unsettling animated videos and
bizarre content
aimed at children. Weeks later, the company announced it would crack down on child-centric videos after
BuzzFeed News reported on dozens of videos
— with millions of views — that depicted children in disturbing and abusive situations (many of those
videos were monetized
, making some of their creators hundreds of thousands of dollars per month). In 2018, YouTube came under fire for unwittingly directing users searching for news to conspiracy videos.
Shortly after being contacted by BuzzFeed News on Monday afternoon, YouTube began deleting the bestiality-thumbed videos on its platform and terminating the accounts that published them. A few hours later, the company proudly announced the success of its latest content policing efforts,
telling the New York Times
that 80% of the 8.28 million videos the company took down during the fourth quarter of 2017 were flagged by machines.
If you want to read more about YouTube and the internet's daily information wars,
subscribe to Infowarzel
, a BuzzFeed News newsletter by the author of this piece, Charlie Warzel.
Ok Guys!
Part of the captivity is to be forced to not live the way you are supposed to live by God (example 2 Maccabees 7:1- wasn't it like that throughout the world of Modern age Racist Slavery Forced to eat Pork by International Alabama KKK Pork farmers- "
Alabama barbecue transcends race, class, and generational boundaries; relies on a multi-racial restaurant-based scene emphasizing pork, open pits, and hickory wood; and serves as a source of state and regional pride.
ALONG WITH THEIR INTERNATIONAL RACIST FRIENDS POISONING PEOPLE
'Karne Korner Ko (KKK).
Even the Chinese are Poisoning People making them eat Pork in their version of FEMA Camps
Muslims were detained for re-education by
China
's government and made to eat pork and drink alcohol, according to a former internment camp inmate.
Omir Bekali, one among perhaps a million people reportedly arrested and held in mass re-education camps, said he was detained without trial or access to a lawyer and forced to disavow his beliefs while praising the Communist Party.
Mr Bekali, a Kazakh citizen, said he contemplated suicide after 20 days in the facility – which itself followed seven months in a prison.
Since spring last year authorities in
Xinjiang
region have confined tens or even hundreds of thousands of Muslims in the camps, including some foreign nationals. One estimate put the figure at a million or more.
),
and lied to by the the system with false signs and wonders.
Babylon the Great Captivity- False Messiah
Daniel 9:23-27
23

At the beginning of thy supplications the commandment came forth, and I am come to shew thee; for thou art greatly beloved: therefore understand the matter, and consider the vision.
24

Seventy weeks are determined upon thy people and upon thy holy city, to finish the transgression, and to make an end of sins, and to make reconciliation for iniquity, and to bring in everlasting righteousness, and to seal up the vision and prophecy, and to anoint the most Holy.
25

Know therefore and understand, that from the going forth of the commandment to restore and to build Jerusalem unto the Messiah the Prince shall be seven weeks, and threescore and two weeks: the street shall be built again, and the wall, even in troublous times.
26

And after threescore and two weeks shall Messiah be cut off, but not for himself: and the people of the prince that shall come shall destroy the city and the sanctuary; and the end thereof shall be with a flood, and unto the end of the war desolations are determined.
27

And he shall confirm the covenant with many for one week: and in the midst of the week he shall cause the sacrifice and the oblation to cease, and for the overspreading of abominations he shall make it desolate, even until the consummation, and that determined shall be poured upon the desolate.
FROM: http://prophecysigns.com/prophecy-sign-7/
Sign #7:

A seven year covenant signed with Israel

Daniel 9:27 (NIV)
27 He will confirm a covenant with many for one 'seven.' In the middle of the 'seven' he will put an end to sacrifice and offering. And on a wing [of the temple] he will set up an abomination that causes desolation, until the end that is decreed is poured out on him.

What it looks like

Anyone who takes Bible prophecy literally understands that a time of tribulation awaits the inhabitants of this earth. Our Lord spoke of it in Matthew 24:21, "There will be great distress, unequaled from the beginning of the world until now." This time of tribulation is to be seven years (Daniel's 70th week) and is based on his prophetic vision in Daniel 9:24-27. This passage explains that the coming antichrist will confirm a covenant with Israel and the many for one 'seven' year period and in the middle of the 'seven' he shall bring an end to sacrifice and offering. For this reason, most prophecy teachers also are looking for the future Antichrist to begin Daniel's 70th week by signing a covenant with Israel and the many nations for seven years.

Every day we hear something about Middle East Peace talks, or lack thereof.Regardless, at some point they will be completed and this will be the first sign that we will see indicating the end times have begun. Daniel 9:27 tells us it will be a seven year covenant between the Antichrist and Israel. It may include the permission to rebuild the third temple in Israel. Here's the problem; the 7 year covenant may not be as conspicuous as we might like. In other words, it may not be revealed to the world, until well after the fact. To say it another way, the covenant could have already been signed, but we have not yet been informed.

The sequence of events in Daniel 9:24-27, then, provides a step-by-step outline of God's prophetic timetable. The seventieth week - the seven years remaining - will transpire in the end times. But before this last "week" could take place, Israel needed to regain control of her Promised Land (which she did in 1948) and then the entire city of Jerusalem (which she did in 1967). When will the seventieth week begin? In His Olivet Discourse, Christ tells His disciples that "when you see all these things (things associated with the seventieth week), recognize that He (Christ) is near, right at the door. Truly I say to you, this generation will not pass until all these things take place. (Matthew 24:33,34). 'These things' referred to by Christ are the events that will occur during the seventieth week, not before, and they must take place before we can look for the return of Christ. Therefore, the seventieth week has tremendous significance to all who are 'looking for the blessed hope and the appearing of the glory of our great God and Saviour, Christ Jesus' (Titus 2:13).

The covenant between Antichrist and Israel (Dan. 9:27). The terms of this covenant are not listed, but it is clear it will be a non-aggression pact, perhaps even a military alliance that will enable the Antichrist to gain power over the 10 kingdoms during the first 3 1/2 years of the 70th week (Dan. 7:23-24; 8:23-25; Rev. 17:8-17). It will include the protection of Israel in their national establishment and restoration and assure them at least temporary peace (Dan. 8:25; 9:27; 11:36-45). The length of the covenant is to be 7 years (

Dan. 9:27

). -Dake's Study Notes
Albert Pike's Three World Wars
Following are apparently extracts of the letter, showing how Three World Wars have been planned for many generations.
The First World War must be brought about in order to permit the Illuminati to overthrow the power of the Czars in Russia and of making that country a fortress of atheistic Communism. The divergences caused by the "agentur" (agents) of the Illuminati between the British and Germanic Empires will be used to foment this war. At the end of the war, Communism will be built and used in order to destroy the other governments and in order to weaken the religions."

2
Students of history will recognize that the political alliances of England on one side and Germany on the other, forged between 1871 and 1898 by Otto von Bismarck, co-conspirator of Albert Pike, were instrumental in bringing about the First World War.
The Second World War must be fomented by taking advantage of the differences between the Fascists and the political Zionists. This war must be brought about so that Nazism is destroyed and that the political Zionism be strong enough to institute a sovereign state of Israel in Palestine. During the Second World War, International Communism must become strong enough in order to balance Christendom, which would be then restrained and held in check until the time when we would need it for the final social cataclysm.

3
After this Second World War, Communism was made strong enough to begin taking over weaker governments. In 1945, at the Potsdam Conference between Truman, Churchill, and Stalin, a large portion of Europe was simply handed over to Russia, and on the other side of the world, the aftermath of the war with Japan helped to sweep the tide of Communism into China.
(Readers who argue that the terms Nazism and Zionism were not known in 1871 should remember that the Illuminati invented both these movements. In addition, Communism as an ideology, and as a coined phrase, originates in France during the Revolution. In 1785, Restif coined the phrase four years before revolution broke out. Restif and Babeuf, in turn, were influenced by Rousseau - as was the most famous conspirator of them all, Adam Weishaupt.)
The Third World War must be fomented by taking advantage of the differences caused by the 'agentur' of the 'Illuminati' between the political Zionists and the leaders of Islamic World. The war must be conducted in such a way that Islam (the Moslem Arabic World) and political Zionism (the State of Israel) mutually destroy each other. Meanwhile the other nations, once more divided on this issue will be constrained to fight to the point of complete physical, moral, spiritual and economical exhaustion.
We shall unleash the Nihilists and the atheists, and we shall provoke a formidable social cataclysm which in all its horror will show clearly to the nations the effect of absolute atheism, origin of savagery and of the most bloody turmoil. Then everywhere, the citizens, obliged to defend themselves against the world minority of revolutionaries, will exterminate those destroyers of civilization, and the multitude, disillusioned with Christianity, whose deistic spirits will from that moment be without compass or direction, anxious for an ideal, but without knowing where to render its adoration, will receive the true light through the universal manifestation of the pure doctrine of Lucifer, brought finally out in the public view. This manifestation will result from the general reactionary movement which will follow the destruction of Christianity and atheism, both conquered and exterminated at the same time.

4
Since the terrorist attacks of Sept 11, 2001, world events, and in particular in the Middle East, show a growing unrest and instability between Modern Zionism and the Arabic World. This is completely in line with the call for a Third World War to be fought between the two, and their allies on both sides. This Third World War is still to come, and recent events show us that it is not far off.
The Antichrist Makes Peace With Israel
The signs of the times indicate that we are on the threshold of the Tribulation — a time of unparalleled carnage that will befall the earth. The earth will plunge into a period of time that the Bible describes will be the most horrific in all of human history.
How do we know the covenant the Antichrist signs will provide Israel with a time of peace?
For the answers to these questions and many others concerning the Tribulation,
Dr. David Reagan
and
Nathan E. Jones
address these important end times questions. The full discussion can be found on a special television episode of
Christ in Prophecy
.
The Peace Confirmed
Dr. Reagan:
Daniel 9:27a
reads,
"Then he shall confirm a covenant with many for one week."
Daniel prophesies a "he" who confirms a covenant or treaty, depending on the translation, with the many that will last for one week. And yet, prophecy teachers conclude from this verse that the Antichrist will make a seven-year peace treaty with Israel.
Nathan Jones: Some say that conclusion is a stretch, but the rest of verse 27 fills in much of the interpretation. "But in the middle of the week He shall bring an end to sacrifice and offering. And on the wing of abominations shall be one who makes desolate, even until the consummation, which is determined, is poured out on the desolate."
Verse 27, along with other biblical references to the Antichrist, would continue the interpreted account to be that in the middle of the week of years (i.e. halfway through seven years) the he, being the Antichrist based on context, breaks a covenant he has made with the many. The many must be Israel, because he enters into the newly built Jewish Temple. Currently, there is no Third Temple on the Temple Mount. Only the Islamic Dome of the Rock stands in the original Temple's location, so a Temple must one day again stand. Once in the Third Temple, the Antichrist sets up an abomination, ends the sacrifices and offerings, and then he declares himself to be God and the only one the world's inhabitants are allowed to worship.
Some theologians have translated this passage to mean the Antichrist breaks a treaty which specified permissions for the Jewish people which allowed them to rebuild the Temple. Some naturally figure that in order for the Jewish people to rebuild their temple, some kind of peace would have to exist between Israel and the Muslim world. As long as the Muslims are dominating the Temple Mount, and would unify to annihilate Israel if the Israelis ever attempted to rebuild their temple there, then some paradigm has to change that would grant Israel permission.
I believe the War of Gog and Magog as described in Ezekiel 38-39 is what changes that paradigm. Timing indicators would place that epic war between the God of Israel and the Russian-Islamic coalition just before or at the onset of the Tribulation. God steps in and supernaturally destroys both Russian and Islamic armies and nations, which would most decisively end the Islamic threat.
Imagine a world where Russia and Islam are no longer threats. Christianity has been raptured out, leaving the Americas and China crippled. A new superpower and its leader would rise to step into the power vacuum. That leader would then want peace between the God of Israel and the rest of the world, and that would involve a covenant. This is the very covenant that starts the countdown of the Daniel's Seventieth Week prophecy. Hence, we know the week reference is a week of years, equaling seven years.
Imagine a world where #Russia and #Islam are no longer threats, the world of the #Antichrist.
CLICK TO TWEET
Dr. Reagan: Bible prophecy reveals the Third Temple must be rebuilt, and that the Temple can only be rebuilt on the original site of the Temple Mount. The Jews believe with all their heart that the original site stands where the Dome of the Rock sits today on the Temple Mount.
Something has got to happen to the Dome of the Rock so that the Third Temple can be built in its place. Perhaps the Dome is going to be destroyed during the Psalm 83 War, when Israel deals with its hostile bordering neighbors, or during the Gog and Magog War. The Temple must to be rebuilt in order for the Antichrist to set up an abomination in it, so there has to be some sort of peace treaty signed where the Antichrist guarantees peace for Israel and allows them to rebuild their Temple without any Islamic reprisal.
The Peace Betrayed
Daniel, along with Revelation 13, also reveals to the reader that in the middle of the Tribulation the Antichrist declares himself to be God. His False Prophet sets up a "living" image of the Antichrist that must be worshiped. At this point, the Jewish people totally reject their would-be savior. In response to their rejections, the Antichrist becomes obsessed with annihilating all the Jewish people during the second and last half of the Tribulation. Jesus referred to the last half of the Tribulation as the Great Tribulation, and He referred to it that way because he was speaking specifically to the Jewish people. The Gentile world may have been suffering under 3.5 years of God's judgment, but the broken treaty of the second half will be when the Jews face their worst tribulation.
Some have misconstrued that the first half of the Tribulation is going to be very peaceful, but the Bible doesn't indicate that other than for the Jewish people under their covenant with the Antichrist. Rather, the first half of the Tribulation will be defined by constant war and death, even escalating into nuclear war. Revelation 6 tells us that with all the war, famine and disease, nearly one-half of the Gentiles on planet Earth are going to die. So, no, there will be no peace on the world during the whole seven year span of Daniel's Seventieth Week.
When it comes to the the pouring out of God's wrath, let's look at the book of Nahum. Billy Graham's wife once said that if God doesn't judge San Francisco soon He's going to have to apologize to Sodom and Gomorrah. This statement is based on
Nahum 1:2
.
"A jealous and avenging God is the Lord, the Lord is avenging and wrathful. The Lord takes vengeance on His adversaries. He reserves wrath for His enemies. The Lord is slow to anger, and great in power, but the Lord will by no means leave the guilty unpunished."
The day of God's wrath is coming on God's enemies!
https://www.breakingisraelnews.com/107933/emergency-situation-in-israel-as-idf-troops-deployed-to-all-borders/
https://www.breakingisraelnews.com/107994/erdogan-calls-for-pan-arab-coalition/
'11 Killed, Iranian Missiles Hit' in Blasts at Syrian Airport, Reports Say
According to reports, the explosions went off in fuel and arms depots in Syria's Hama, hit Iranian surface-to-air missiles
Explosions were heard near Hama airport in
Syria
on Friday, Syrian state media said, without giving details. Sky News in Arabic reported that surface-to-air missiles belonging to Iranian militias were hit.
The Syrian Observatory for Human Rights said the series of explosions were near Hama's military airport and had been heard in Hama city. The blasts killed at least 11 government soldiers and allied fighters, they reported.
According to reports, the explosions went off in fuel and arms depots.
"The reason behind the blasts is unknown still, but it might be due to high temperatures or a technical fault," Rami Abdel Rahman, the head of the observatory, told dpa.
Last Wednesday, Iranian forces fired 20 rockets at Israel Defense Forces positions in the Golan Heights. Four of the rockets aimed toward Israel were intercepted by the Iron Dome air defense system while the remaining rockets exploded on Syrian territory, the military said.
The Iranian attack prompted the
most extensive Israeli strike
on Syria in decades; overnight, Israel openly attacked dozens of Iranian military and logistics targets in Syria.
The Israeli military accused the Revolutionary Guards' Al Quds force and its commander, Maj. Gen. Qassem Soleimani, of launching the attack at the Israeli Golan Heights. The attack was most likely in retaliation for previous attacks on attributed to Israel on Iranian bases and positions in Syria.
Ezekiel 38
King James Version (KJV)
38

And the word of the

Lord

came unto me, saying,
2

Son of man, set thy face against Gog, the land of Magog, the chief prince of Meshech and Tubal, and prophesy against him,
3

And say, Thus saith the Lord

God

; Behold, I am against thee, O Gog, the chief prince of Meshech and Tubal:
4

And I will turn thee back, and put hooks into thy jaws, and I will bring thee forth, and all thine army, horses and horsemen, all of them clothed with all sorts of armour, even a great company with bucklers and shields, all of them handling swords:
5

Persia, Ethiopia, and Libya with them; all of them with shield and helmet:
6

Gomer, and all his bands; the house of Togarmah of the north quarters, and all his bands: and many people with thee.
7

Be thou prepared, and prepare for thyself, thou, and all thy company that are assembled unto thee, and be thou a guard unto them.
8

After many days thou shalt be visited: in the latter years thou shalt come into the land that is brought back from the sword, and is gathered out of many people, against the mountains of Israel, which have been always waste: but it is brought forth out of the nations, and they shall dwell safely all of them.
9

Thou shalt ascend and come like a storm, thou shalt be like a cloud to cover the land, thou, and all thy bands, and many people with thee.
10

Thus saith the Lord

God

; It shall also come to pass, that at the same time shall things come into thy mind, and thou shalt think an evil thought:
11

And thou shalt say, I will go up to the land of unwalled villages; I will go to them that are at rest, that dwell safely, all of them dwelling without walls, and having neither bars nor gates,
12

To take a spoil, and to take a prey; to turn thine hand upon the desolate places that are now inhabited, and upon the people that are gathered out of the nations, which have gotten cattle and goods, that dwell in the midst of the land.
13

Sheba, and Dedan, and the merchants of Tarshish, with all the young lions thereof, shall say unto thee, Art thou come to take a spoil? hast thou gathered thy company to take a prey? to carry away silver and gold, to take away cattle and goods, to take a great spoil?
14

Therefore, son of man, prophesy and say unto Gog, Thus saith the Lord

God

; In that day when my people of Israel dwelleth safely, shalt thou not know it?
15

And thou shalt come from thy place out of the north parts, thou, and many people with thee, all of them riding upon horses, a great company, and a mighty army:
16

And thou shalt come up against my people of Israel, as a cloud to cover the land; it shall be in the latter days, and I will bring thee against my land, that the heathen may know me, when I shall be sanctified in thee, O Gog, before their eyes.
17

Thus saith the Lord

God

; Art thou he of whom I have spoken in old time by my servants the prophets of Israel, which prophesied in those days many years that I would bring thee against them?
18

And it shall come to pass at the same time when Gog shall come against the land of Israel, saith the Lord

God

, that my fury shall come up in my face.

19 For in my jealousy and in the fire of my wrath have I spoken, Surely in that day there shall be a great shaking in the land of Israel;
20

So that the fishes of the sea, and the fowls of the heaven, and the beasts of the field, and all creeping things that creep upon the earth, and all the men that are upon the face of the earth, shall shake at my presence, and the mountains shall be thrown down, and the steep places shall fall, and every wall shall fall to the ground.
21

And I will call for a sword against him throughout all my mountains, saith the Lord

God

: every man's sword shall be against his brother.
22

And I will plead against him with pestilence and with blood; and I will rain upon him, and upon his bands, and upon the many people that are with him, an overflowing rain, and great hailstones, fire, and brimstone.
23

Thus will I magnify myself, and sanctify myself; and I will be known in the eyes of many nations, and they shall know that I am the

Lord

.
ILLUMINATI COOKING UP FAKE DISNEY GOG-MAGOG WAR: Erdogan Calls for Emergency Pan-Islamic Meeting Against Israel and US 'Terror States'
"He shall be a wild ass of a man; His hand against everyone, And everyone's hand against him; He shall dwell alongside of all his kinsmen."

Genesis 16:12 (The Israel Bible™)
Tensions between Israel and Turkey are flaring as for the second time in less than six months, Turkish President Recep Tayyip Erdogan called for a pan-Islamic meeting to discuss a coalition against Israel.
On Monday, a six week Hamas-led protest-turned-riot culminated with 35,000 Palestinians challenging the security fence and approximately 60 Palestinians killed. Erdogan was quoted in the press as saying that Israel is a "a terror state" that has committed "a genocide."
"Israel is wreaking state terror," Erdogan said in a speech to Turkish students in London broadcast by state television. "Israel is a terror state. What Israel has done is a genocide. I condemn this humanitarian drama, the genocide, from whichever side it comes, Israel or America."
Undaunted, Israeli Prime Minister Benjamin Netanyahu responded, issuing a statement that "Erdogan is among Hamas's biggest supporters and there is no doubt that he well understands terrorism and slaughter. I suggest that he not preach morality to us."
The Turkish president called for an emergency session of of the Organization of Islamic Cooperation (OIC) in Istanbul to be held on Friday to discuss the situation in Gaza. A massive anti-Israel rally is also scheduled to be held concurrently in Taksim Square in Istanbul.
Relations between the two countries hit a dangerous low on Tuesday when Turkey expelled the Israeli ambassador from Istanbul and recalled its ambassador from its embassy in Tel Aviv. Israel responded by asking the Turkish consul-general in East Jerusalem to leave as well.
Erdogan has used his position as head of the OIC to call for action against Israel and the US. In December, he called an
emergency meeting
in response to President Trump's recognition of Jerusalem as Israel's capital. In an article published at the same time in Turkish media, Erdogan
called
for the 57 member states of the OIC to form a joint "Army of Islam" to besiege and attack the state of Israel.
This is also not the first time Gaza has been a point of contention driving a wedge between Israel and Turkey. Relations between the two countries were on track when a flotilla set out from Turkey in 2010 with the intention of violating an Israeli blockade of Gaza. The flotilla was intercepted by the Israeli Navy and commandos attempted to board the Turkish Mava Marmara. Eight Turkish nationals and one Turkish American were killed in the IDF raid. Relations between the two countries, which had advanced to the point of joint military exercises, were curtailed. Following a telephone apology from Netanyahu to Erdoğan in 2013, discussions commenced between Turkey and Israel in regard to compensation and diplomatic relations between the two countries.
Deputy Foreign Minister Tzipi Hotovely said in an interview with Israeli Kan television on Thursday that the Israeli government did not intend to sever ties with Turkey.
"The decision reached by the Foreign Ministry after much deliberation — and of course Prime Minister Benjamin Netanyahu was part of it — is that we do not intend to cut ties with Turkey," Hotovely said.
"Turkey is an important state in the region, and even though its leader made very grave remarks against Israel's leadership and its actions, I think we repaid him in kind," she added. "We said that a dictator like him who spills blood and behaves in such a cruel manner cannot lecture us."
The international dispute turned personal when Yair Netanyahu, the prime minister's son, posted a semi-obscene post aimed at Turkey.
The post has since been deleted from Instagram.
Revelation 6

King James Version (KJV)
6

And I saw when the Lamb opened one of the seals, and I heard, as it were the noise of thunder, one of the four beasts saying, Come and see.
2

And I saw, and behold a white horse: and he that sat on him had a bow; and a crown was given unto him: and he went forth conquering, and to conquer.
3

And when he had opened the second seal, I heard the second beast say, Come and see.
4

And there went out another horse that was red: and power was given to him that sat thereon to take peace from the earth, and that they should kill one another: and there was given unto him a great sword.
5

And when he had opened the third seal, I heard the third beast say, Come and see. And I beheld, and lo a black horse; and he that sat on him had a pair of balances in his hand.
6

And I heard a voice in the midst of the four beasts say, A measure of wheat for a penny, and three measures of barley for a penny; and see thou hurt not the oil and the wine.
7

And when he had opened the fourth seal, I heard the voice of the fourth beast say, Come and see.
8

And I looked, and behold a pale horse: and his name that sat on him was Death, and Hell followed with him. And power was given unto them over the fourth part of the earth, to kill with sword, and with hunger, and with death, and with the beasts of the earth.
9

And when he had opened the fifth seal, I saw under the altar the souls of them that were slain for the word of God, and for the testimony which they held:
10

And they cried with a loud voice, saying, How long, O Lord, holy and true, dost thou not judge and avenge our blood on them that dwell on the earth?
11

And white robes were given unto every one of them; and it was said unto them, that they should rest yet for a little season, until their fellowservants also and their brethren, that should be killed as they were, should be fulfilled.
12

And I beheld when he had opened the sixth seal, and, lo, there was a great earthquake; and the sun became black as sackcloth of hair, and the moon became as blood;
13

And the stars of heaven fell unto the earth, even as a fig tree casteth her untimely figs, when she is shaken of a mighty wind.
14

And the heaven departed as a scroll when it is rolled together; and every mountain and island were moved out of their places.
15

And the kings of the earth, and the great men, and the rich men, and the chief captains, and the mighty men, and every bondman, and every free man, hid themselves in the dens and in the rocks of the mountains;
16

And said to the mountains and rocks, Fall on us, and hide us from the face of him that sitteth on the throne, and from the wrath of the Lamb:
17

For the great day of his wrath is come; and who shall be able to stand?
WHITE HORSE PROPHECY
"And it will be preserved and saved by the efforts of the White Horse and the Red Horse who will combine in its defense.
"The White Horse will raise an ensign on the tops of the mountains of peace and safety where all nations may flee unto for safety.
"The White Horse will find the mountains full of minerals, and they will become very rich. You will find silver piled up in the streets. (At this time, it must be remembered that it was not known that the precious metals existed either in the Rocky Mountains or in California.) You will see gold shoveled up like sand.
"Gold will be but of little value even in a mercantile capacity, for the people of the world will have something else to do in seeking for salvation.
[21] 18."The time will come when the banks in every nation will fail, and only two places will be safe where the people can deposit their gold and treasure. These places will be with the White Horse and England's vaults.
"A terrible revolution will take place in the land of America, such as has never been seen before, for the land will be literally left without a supreme government, and every species of wickedness will run rampant; it will be so terrible that father will be against son and son against father, mother against daughter and daughter against mother. The most terrible scenes of murder and bloodshed and rapine that have ever been looked upon will take place.
"Peace will be taken from the earth, and there will be no peace only in the Rocky Mountains. This will cause hundreds and thousands of the honest in heart of the world to gather there, not because they would be saints, but for safety, and because they would not take up the sword against their neighbors.
"You will be so numerous that you will be in danger of famine, but not for the want of seed time and harvest, but that so many will have to be fed. Many will come with bundles under their arms to escape the calamities, and there will be no escape, only by fleeing to Zion.
"Those that come to you will try and keep the laws and be one with you, for they will see your unity and the greatness of your organizations.
"The Turkish Empire or the Crescent will be one of the first powers that will be disrupted as a power, for freedom must be given for the Gospel to be preached in the Holy Land.
[22] 24."The Lord took of the best blood of the nations, and planted them on the small island now called England, or Great Britain, and gave them great powers in the nations for a thousand years, and this power will continue with them, that they may keep the balance of power, that they may keep Russia from usurping power over all the world.
"England and France are now bitter enemies, but they will be allied together in order to keep Russia from conquering the world.
"The two Popes, Greek and Catholic, will come together and be united. The Protestant religions do not know how much they are indebted to Henry VIII for throwing off the Pope's bull and establishing the Protestant faith. He was the only monarch that could do so at the time, and he did it because the nation was at his back to sustain him.
One of the peculiar features in England is the established red coat, a uniform making so remarkable a mark to shoot at, and yet they have conquered wherever they have gone. The reason for this will be known by them some day. The Lion and the Unicorn of England is the ensign of Israel. The wisdom and statesmanship of England comes from there being so much of the blood of Israel in the nation.
"While the terrible revolution of which mention has been made is going on, England will be neutral until it becomes so inhuman that she will interfere to stop the shedding of blood. England and France will then unite together and come with intention to make peace, not to subdue the nation. They will find the nation so broken up and so many claiming government, still there will be no [23] responsible government. Then it will appear to the other nations or powers as though England had taken possession of the country.
"The Black Horse will flee to the invaders and will join with them, for they will have fear of becoming slaves again, knowing England does not believe in slavery, fleeing to them, they believed would make them safe. Armed with British bayonets, the doings of the Black Horse will be terrible."
So the Prophet said he could not bear to look longer upon the scene as shown him in vision, that he asked the Lord to close the scene.
Continuing, he said: "During this time, the great White Horse will have gathered strength, sending out elders to get the honest in heart of the United States to stand by the Constitution of the United States, as it was given by inspiration of the Lord.
Prince Harry will wear ring, unlike his brother and grandfather
Queen meets Meghan Markle's mother Doria
Meghan feeling 'wonderful' as she arrives at hotel
Harry and William meet supporters in Windsor
T
housands of people camped on the streets of Windsor on Friday night as they waited for the start of celebrations for the wedding of Prince Harry and Meghan Markle.
As many as 100,000 people are expected to try to glimpse the royal couple's wedding procession.
The pair are due to be married at St George's Chapel at Windsor Chapel in a ceremony that will mix gospel music and traditional hymns reflecting the couple's transatlantic backgrounds.
They spent the night apart in line with wedding custom.
M
eghan Markle said she was feeling "wonderful" on the eve of her wedding as she arrived at her accommodation with her mother.
Speaking outside the luxury Cliveden House Hotel after meeting the Queen for afternoon tea, Meghan smiled broadly and looked at ease as they were greeted by the hotel general manager.
Minutes earlier, Prince Harry said he feels "great" ahead of the royal wedding as he and his best man the Duke of Cambridge greeted the crowds outside Windsor Castle.
T
he groom-to-be looked relaxed as he joked with an international gathering of well-wishers and even took a teddy bear from one, which he carried back into the castle through the Henry VIII gates.
Both will now spend the night in separate hotels and the next time they will see each other will be at St George's Chapel on Saturday lunchtime when the Prince of Wales walks her part-way down the aisle.
Prince Harry - flanked by his best man the Duke of Cambridge - wore open-necked white shirts and jackets to meet crowds outside the caste on Friday afternoon.
Adoring audience members filmed the occasion on their phones as a team of security guards made sure nothing untoward took place.
At one point Harry was handed a small teddy bear wearing a red sweater, which he gave a quick hug before moving on to speak to a young boy sporting a red, white and blue crown-style hat.
Prince Harry did not answer when members of the public asked him if he was nervous, but told one well-wisher that he was feeling "great".
The prince also asked excited fans if they were looking forward to Saturday.
Meghan's mother Doria Ragland met the Queen and the Duke of Edinburgh at Windsor Castle on Friday a day ahead of the big event.
Ms Markle is understood to have asked the Prince of Wales to accompany her after her father, Thomas Markle, told her he was unable to fly to the UK.
She has spent a great deal of time with him during her relationship with Prince Harry, a source said, and has built an affectionate bond. It was Ms Markle's idea to ask him to do the honours on her wedding day, offering the suggestion to Prince Harry who was delighted. The Prince of Wales was very happy to accept, a source said.
P
rince Harry and Ms Markle smiled and waved to photographers on Friday afternoon as they arrived at Windsor Castle in a Land Rover.
They accompanied Ms Markle's mother,
Doria Ragland
, as she met the Queen and Duke of Edinburgh for the first time - for afternoon tea.
Ms Ragland, a yoga instructor and social worker, had been the favourite to walk her daughter down the aisle, but will instead join her for the car journey to the chapel before taking her place in the congregation.
Unlike Ms Ragland, Harry's father is vastly experienced at appearing at large-scale public events amid intense scrutiny.
In statement, Kensington Palace said: "Ms Meghan Markle has asked His Royal Highness The Prince of Wales to accompany her down the aisle of the Quire of St George's Chapel on her Wedding Day. The Prince of Wales is pleased to be able to welcome Ms Markle to The Royal Family in this way."
He cited heart problems after it emerged he had colluded with the paparazzi for staged photographs in his home town in Mexico.
As royal superfans camped out overnight in Windsor to secure the best spots, Ms Markle and Prince Harry were spotted being driven into Windsor Castle for a final rehearsal in St George's Chapel on Thursday afternoon.
Well-wishers gathered in Windsor will be hoping to catch another glimpse of the bride or groom on Friday before the big day.
Harry accompanied his brother Prince William, now the Duke of Cambridge, on an impromptu walkabout outside Clarence House, in central London, the evening before his wedding to Kate Middleton.
Crowds in Windsor got a glimpse of the Prince before he spends his final night of bachelorhood at the Dorchester Collection's Coworth Park in Ascot. The bride will stay at the Cliveden House Hotel, set in a National Trust estate in Taplow, Berkshire, with her mother.
Stay with us for the latest updates throughout the day - and all weekend.
Prince Harry will wear ring
T
he order of service also reveals that the couple will exchange rings...
They loose hands and the Bride places a ring on the fourth finger of the Bridegroom's left hand and, holding it there, says

HARRY, I give you this ring as a sign of our marriage. With my body I honour you, all that I am I give to you, and all that I have I share with you, within the love of God, Father, Son and Holy Spirit.
Wedding rings worn by royal brides are traditionally made from Welsh Gold but very few men in the monarchy have chosen to put on a wedding band.
When the Duke of Cambridge married, he followed in the footsteps of his grandfather the Duke of Edinburgh and uncle the Duke of York who both chose not to wear the symbol of marriage.
Prince Harry, however, is known to wear jewellery and he and Ms Markle have been been seen wearing matching bracelets
Isaiah 19

King James Version (KJV)
19

The burden of Egypt. Behold, the

Lord

rideth upon a swift cloud, and shall come into Egypt: and the idols of Egypt shall be moved at his presence, and the heart of Egypt shall melt in the midst of it.
2

And I will set the Egyptians against the Egyptians: and they shall fight every one against his brother, and every one against his neighbour; city against city, and kingdom against kingdom.
3

And the spirit of Egypt shall fail in the midst thereof; and I will destroy the counsel thereof: and they shall seek to the idols, and to the charmers, and to them that have familiar spirits, and to the wizards.
4

And the Egyptians will I give over into the hand of a cruel lord; and a fierce king shall rule over them, saith the Lord, the

Lord

of hosts.
5

And the waters shall fail from the sea, and the river shall be wasted and dried up.
6

And they shall turn the rivers far away; and the brooks of defence shall be emptied and dried up: the reeds and flags shall wither.
7

The paper reeds by the brooks, by the mouth of the brooks, and every thing sown by the brooks, shall wither, be driven away, and be no more.
8

The fishers also shall mourn, and all they that cast angle into the brooks shall lament, and they that spread nets upon the waters shall languish.
9

Moreover they that work in fine flax, and they that weave networks, shall be confounded.
10

And they shall be broken in the purposes thereof, all that make sluices and ponds for fish.
11

Surely the princes of Zoan are fools, the counsel of the wise counsellors of Pharaoh is become brutish: how say ye unto Pharaoh, I am the son of the wise, the son of ancient kings?
12

Where are they? where are thy wise men? and let them tell thee now, and let them know what the

Lord

of hosts hath purposed upon Egypt.
13

The princes of Zoan are become fools, the princes of Noph are deceived; they have also seduced Egypt, even they that are the stay of the tribes thereof.
14

The

Lord

hath mingled a perverse spirit in the midst thereof: and they have caused Egypt to err in every work thereof, as a drunken man staggereth in his vomit.
15

Neither shall there be any work for Egypt, which the head or tail, branch or rush, may do.
16

In that day shall Egypt be like unto women: and it shall be afraid and fear because of the shaking of the hand of the

Lord

of hosts, which he shaketh over it.
17

And the land of Judah shall be a terror unto Egypt, every one that maketh mention thereof shall be afraid in himself, because of the counsel of the

Lord

of hosts, which he hath determined against it.
18

In that day shall five cities in the land of Egypt speak the language of Canaan, and swear to the

Lord

of hosts; one shall be called, The city of destruction.
19

In that day shall there be an altar to the

Lord

in the midst of the land of Egypt, and a pillar at the border thereof to the

Lord

.
20

And it shall be for a sign and for a witness unto the

Lord

of hosts in the land of Egypt: for they shall cry unto the

Lord

because of the oppressors, and he shall send them a saviour, and a great one, and he shall deliver them.
21

And the

Lord

shall be known to Egypt, and the Egyptians shall know the

Lord

in that day, and shall do sacrifice and oblation; yea, they shall vow a vow unto the

Lord

, and perform it.
22

And the

Lord

shall smite Egypt: he shall smite and heal it: and they shall return even to the

Lord

, and he shall be intreated of them, and shall heal them.
23

In that day shall there be a highway out of Egypt to Assyria, and the Assyrian shall come into Egypt, and the Egyptian into Assyria, and the Egyptians shall serve with the Assyrians.
24

In that day shall Israel be the third with Egypt and with Assyria, even a blessing in the midst of the land:
25

Whom the

Lord

of hosts shall bless, saying, Blessed be Egypt my people, and Assyria the work of my hands, and Israel mine inheritance.
WAKE UP AND SEE THE SIGNS OF THE TIMES OR YOU WILL BE FORCED TO WAKE UP: Jeremiah 8

King James Version (KJV)
8

At that time, saith the

Lord

, they shall bring out the bones of the kings of Judah, and the bones of his princes, and the bones of the priests, and the bones of the prophets, and the bones of the inhabitants of Jerusalem, out of their graves:
2

And they shall spread them before the sun, and the moon, and all the host of heaven, whom they have loved, and whom they have served, and after whom they have walked, and whom they have sought, and whom they have worshipped: they shall not be gathered, nor be buried; they shall be for dung upon the face of the earth.
3

And death shall be chosen rather than life by all the residue of them that remain of this evil family, which remain in all the places whither I have driven them, saith the

Lord

of hosts.
4

Moreover thou shalt say unto them, Thus saith the

Lord

; Shall they fall, and not arise? shall he turn away, and not return?
5

Why then is this people of Jerusalem slidden back by a perpetual backsliding? they hold fast deceit, they refuse to return.
6

I hearkened and heard, but they spake not aright: no man repented him of his wickedness, saying, What have I done? every one turned to his course, as the horse rusheth into the battle.
7

Yea, the stork in the heaven knoweth her appointed times; and the turtle and the crane and the swallow observe the time of their coming; but my people know not the judgment of the

Lord

.
8

How do ye say, We are wise, and the law of the

Lord

is with us? Lo, certainly in vain made he it; the pen of the scribes is in vain.
9

The wise men are ashamed, they are dismayed and taken: lo, they have rejected the word of the

Lord

; and what wisdom is in them?
10

Therefore will I give their wives unto others, and their fields to them that shall inherit them: for every one from the least even unto the greatest is given to covetousness, from the prophet even unto the priest every one dealeth falsely.
11

For they have healed the hurt of the daughter of my people slightly, saying, Peace, peace; when there is no peace.
12

Were they ashamed when they had committed abomination? nay, they were not at all ashamed, neither could they blush: therefore shall they fall among them that fall: in the time of their visitation they shall be cast down, saith the

Lord

.
13

I will surely consume them, saith the

Lord

: there shall be no grapes on the vine, nor figs on the fig tree, and the leaf shall fade; and the things that I have given them shall pass away from them.
14

Why do we sit still? assemble yourselves, and let us enter into the defenced cities, and let us be silent there: for the

Lord

our God hath put us to silence, and given us water of gall to drink, because we have sinned against the

Lord

.
15

We looked for peace, but no good came; and for a time of health, and behold trouble!
16

The snorting of his horses was heard from Dan: the whole land trembled at the sound of the neighing of his strong ones; for they are come, and have devoured the land, and all that is in it; the city, and those that dwell therein.
17

For, behold, I will send serpents, cockatrices, among you, which will not be charmed, and they shall bite you, saith the

Lord

.
18

When I would comfort myself against sorrow, my heart is faint in me.
19

Behold the voice of the cry of the daughter of my people because of them that dwell in a far country: Is not the

Lord

in Zion? is not her king in her? Why have they provoked me to anger with their graven images, and with strange vanities?
20

The harvest is past, the summer is ended, and we are not saved.
21

For the hurt of the daughter of my people am I hurt; I am black; astonishment hath taken hold on me.
22

Is there no balm in Gilead; is there no physician there? why then is not the health of the daughter of my people recovered?
When Lava Flows, a Hawaiian Goddess' Name Is Invoked
By Associated Press, Wire Service Content |May 17, 2018, at 12:18 a.m.
USNEWS
(AP Photo/Caleb Jones, File) The Associated Press By JENNIFER SINCO KELLEHER, Associated Press HONOLULU (AP) — In rural Hawaii neighborhoods where lava from Kilauea volcano has burned down or threatened to consume the homes, a name often comes up: Pele (peh-leh). "You can't really predict what Pele is going to do," said Julie Woolsey, who evacuated on May 3 as a fissure opened on her street, oozing lava just 1,000 feet from her home. In this photo released by U.S. Geological Survey, a plume of ash rises from the Puu Oo vent on Hawaii's Kilaueaa Volcano after a magnitude 5.0 earthquake, Thursday, May 3, 2018 in Hawaii Volcanoes National Park. Hawaii's Kilauea volcano erupted Thursday, sending lava shooting into the air in a residential neighborhood and prompting mandatory evacuation orders for nearby homes. Hawaii County said steam and lava poured out of a crack in Leilani Estates, which is near the town of Pahoa on the Big Island. (U.S. Geological Survey via AP) Hawaii's Kilauea Erupts EXPAND GALLERY Here is more information about Pele and why the goddess is revered: WHO IS PELE? Pele, known as the goddess of volcanoes and fire, is an important figure in Hawaiian culture. She represents all the phenomena related to volcanos — the magma, steam, ash, acid rain. Pele is an akua, or goddess, but not in the way people outside Hawaii might think of gods and goddesses. "A lot of people translate the word akua as god. But we feel that word has kind of a western connotation to it, so we use the word 'element,'" said Kuulei Kanahele, researcher at the Edith Kanakaole Foundation, which focuses on Native Hawaiian cultural preservation and education. "They're not like Greek gods or the biblical, western gods where they're punishing you." According to chants, Pele and her family migrated from kahiki — an unspecified land outside of Hawaii. She first landed in the northwestern Hawaiian islands before making her way through the main Hawaiian islands, starting with Kauai, then Oahu, then Maui, before settling in Hawaii Island. She dug craters on the islands, including Maui's Haleakala and what's known as Punchbowl and Diamond Head on Oahu. "She didn't find a crater that was suitable to her liking," Kanahele said, until Kilauea's Halemaumau crater, where she now resides. WHY IS SHE REVERED? "In Hawaiian thinking and Hawaiian culture, Pele is the foundation, the creation of land," said Piilani Kaawaloa, who teaches traditional Hawaiian literature, chant and hula at the Hawaii Island campus of Kamehameha Schools. "People know she exists," Kaawaloa said. "And because we have these genuine stories and legends and chants that talk about who she is." She has two forms, Kaawaloa explained, one that stays at the crater tending to her fire pit and another that goes "holoholo" or leisurely exploring, around Puna, a district on the slopes of the volcano. That's exactly what is happening now with the lava fissures opening up in Puna's Leilani Estates and neighboring communities, while scientists worry that Kilauea's summit could have an explosive steam eruption that would hurl huge rocks and ash miles into the sky. RELATED CONTENT A large fracking operation becomes a new part of the horizon with Mount Meeker and Longs Peak looming in the background on December 28, 2017 in Loveland, Colorado. As fracking and oil and gas exploration continues to explode along the front range operations such as these are seen more and more along the front range. (Photo by Helen H. Richardson/The Denver Post via Getty Images) Fossil Fuel Regulations Threaten Environmental Justice in Colorado LEGENDS OF PELE A popular legend tells the tale of a frail, old woman who asks for food from two girls cooking breadfruit. One girl said they didn't have food for strangers, but the younger girl shared the breadfruit. The woman told the younger girl that strange things would be happening on the mountainside and to tell her family to hang bits of cloth made from bark to stay safe. The younger girl's grandmother said that woman was Pele and heeded the advice. A neighbor told them Pele is angry and she's stirring her fire pit on Mauna Loa, according "Hawaii Island Legends," edited by Mary Kawena Pukui. Pele sent her lava to destroy those who made her angry. The lava stream broke in two and flowed on each side of the younger girl's home. "When our myth writers observe nature and what's happening, it's easy to put feelings and emotions and romance into it," to make the stories interesting and stand the test of time while also incorporating morality lessons, Kanahele said. To understand Pele on a deeper level, it's important to remember science underlies the tales, which were created to record scientific observations, she said. One example, she said, is the story of Pele brawling with Poliahu, the goddess of snow. That's really an eruption at Mauna Kea, where there's snowfall, describing the fire and ice interacting, Kanahele said. A lava flow is often described as "cleaning house," but Kanahele said that's a more modern, western metaphor. "Pele was flowing for millions of years," she said. "She wasn't cleaning house, she was creating land."
FOUR LAWS
Pele has four laws, Kanahele explained:
1. The lava will always flow in order to create new land. Lava will always migrate to new spots.
2. When there's evidence of volcanic activity — earthquakes, the smell of sulfur — the land belongs to Pele. "If she's in residence, then it's best for humans to not be there."
3. Once Pele moves on and the area is free from kapu, or prohibitions, then humans can go into that land.
4. Land is suitable for human use after land burned down has reforested.
At our Race Lies Watchman Ministry we have just last night om up on the Milestone of 36,666 Posts. Right on the Day where all of these events were happening.
Properties of the number 6666
RIDING FOR THE BEAST
---
Symbolism
Symbolize the legions of Satan, similarly to the number 666 which represents Satan himself.
General
According to the occultists the troops of Satan include 6 legions of 66 cohorts of 666 companies to account for 6666 demons.

According to the Gospel of Barnabe, chapter 21, the person possessed cured by Jesus (Lk 8,26) had in him 6666 demons.

The king Solomon enclosed in a bottle, for a period of a day, Belial and its legions (522180 demons) and he arrived, another time, to make enter a ring 6666 demons that had dared to resist to him.

Saint Elisabeth, Queen of Hungary, with Saint Mathilde and Saint Brigitte, wishing to know some more about the Passion of Jesus-Christ, offered fervent prayers for this purpose, to the continuation of which Our-Lord Jesus-Christ appeared to them and gave them a message which was put in writing and then kept in a silvered money by His Holiness and by Emperors and Christian Empresses. This letter of our Saver Jesus-Christ, in which is mentioned that He received on the whole 6666 blows on the body, is devoted to the drops of Blood that Our-Lord lost on the path of the Calvary. Here is the integral contents of this letter mentioning very particular details on the sufferings that He endured:




"I am descended from the Sky on the earth to convert you. Formerly, peoples were religious, and their harvests were abundant. At present, on the contrary, harvests are thin. If you want to harvest in abundance, you do not have to work Sunday, because Sunday you have to go to the church and to pray God to forgive your sins. He has given you six days to work, and one to rest you and to pray, to help poor people and to go to the church. Those which murmur against My Religion and despise this Holyed Letter will be abandoned by Me.




On the contrary, those which will keep on them a copy of this letter will be preserved of the death by drowning and the sudden death, as well as all contagious sicknesses and the thunderbolt; they will not die without confession and will be preserved of their enemies and the hand of the bad authorities, as well as all their slanderers and false witnesses. The women in danger, at the time of the childbirth, will overcome all the difficulties by keeping this prayer close of her. In houses where one will keep this prayer, no misfortune will never arrive, and 40 days before the death of a person that guards this prayer on him or on her, the Virgin Mary will appear to him or to her.




To all believers that will recite during 3 years each days, 2 Pater, Ave and Gloria, in the honor of Blood Drops which I lost, I will grant the five following graces:




Plenary indulgence and the discount of your faults;
You will be exempt of the sorrows of the Purgatory;
If you die before to have accomplished the 3 years, it will be the same thing as if you had finished them;
At your death, this will be AS IF YOU HAD POURED ALL YOUR BLOOD FOR THE FAITH;
I will go down from the Sky to come to seek your soul and those of your children until the 4th GENERATION.




Know that the number of armed soldiers were 150; those which trailed Me while I was attached were 23; the executors of justice were 83; I received 150 blows on the head; 108 on the stomach; 80 kicks on the shoulders; I was trailed 24 times by the hair; I received 180 SPITTLES ON THE FACE; 6666 blows on the body...; 110 times I was pushed brutally and, at midday, I was raised by the hair, stung by thorns and pulled by the beard 23 times; I received 20 wounds on the head; 110 stings of thorns on the head; 35 MORTAL THORNS IN THE FACE; then I was whipped and dressed as a king of derision; 1000 wounds on the body; 608 soldiers escorted Me on the Calvary; 3 Kept me, and 1008 mocked Me. The drops of blood that I lost were to the number of 28430".

This letter was blessed by His Holiness Benedetta Da S.S. The Pope LEON XIII in Rome, April 5, 1890.

Some see in 6666 the number of years since the fall of Adam where during this period the Earth ill be submitted to the perverse influence of Satan (of which it is told that its number is 666 according to the Revelation) after what he will be chained for a thousand years as predicted by Saint John. That will correspond at the same time to the entry in the seventh millennium where the Truth will prosper freely.

According to Martinus Borrhaus, the number of angels amounts to 399920004: 9 orders of 6666 legions of 6666 angels (Job, ch. II, p.25).

Some advance that the Koran would include in fact 6666 verses.
Occurrence
The addition of all the occurrences of 365 kinds of numbers found in the Bible of Jerusalem, 1 to 200 millions, numbers write in the cardinal and ordinal form, gives as result 6649. But if we add to this number the occurrences of words of the Bible such that thirty, fifty, etc., and where in the NRSV and in the Protestant version are written in the cardinal form, and if in more we add the occurrences of numbers which are found only in the NRSV or the Protestant version (but not in the Bible of Jerusalem), then the difference of the 17 missing occurrences is filled and the result reaches 6666.
Right after this I saw a red rainbow in in the sky, It was about 2 hours from sunrise. he as things got close to sunrise The red rainbow faded away and then was a fog white rainbow.
1. According to those who dabble on the dark and luciferian arts a
Red Rainbow signifies the death of Demons
. Leprechauns, Clurichauns, Faeries, Nymphs, Unicorns, Incubus, and Succubus, etc.. are all some demons that those in the dark arts like to channel.
2. A RED RAINBOW IS A SIGN FROM ARCHANGEL URIEL:
According to Ascended Masters
Archangel Uriel
ARCHANGEL URIEL
Ray: 1st Ray
Colour/s: Ruby Red, yellow and gold, purple
Focus: Spiritual devotion through selfless service to humanity
Chakra: Root or Base Chakra
Element: Earth
Planet: Venus
Day: Thursday
Direction: North
Crystals: Rutilated Quartz, Citrine, Tiger's Eye
Signs/Symbols: The Flame of Love, glymph
Astrology/Zodiac: Capricorn, Aquarius, Taurus, Virgo

Archangel Uriel means 'Fire of God', 'Flame of God', 'Light of God', 'God's Light', or 'God is Light', 'God is My Light', 'Radiation of God', 'God is the Radiating Principle of Light'.
Archangel Uriel rules over the Red Ray, red being the first visible colour in the rainbow spectrum. His glyph is the lightening flash that he uses to bring flashes of inspiration.

Archangel Uriel is the Archangel of the North, rules over the element of Earth, and relates to the astrological signs of Aquarius, Taurus, Virgo and Capricorn.

Archangel Uriel brings the concept and practice of alchemy and the ability to manifest onto the Earth plane. Archangel Uriel assists with Earth changes, alchemy, problem-solving and solution-finding, spiritual understanding, studies, learning and education, weather and writing.

Archangel Uriel is the 'Angel of Peace' or the 'Archangel of Divine Peace', the 'Angel of Salvation', the 'Angel of Repentance', and the 'Prince of Light'. Uriel is also the 'Angel of Music', the 'Angel of Poetry', the 'Angel of Prophecy' and the 'Archangel of Ministration'.
Archangel Uriel's symbol is an open hand holding a flame, which he offers as the 'Flame of Love' towards all souls.

Archangel Uriel is one of the most powerful of archangels, and he is associated with light, electricity, lightning and thunder, sudden action, courage, stamina and endurance. Uriel activates and revitalizes, and helps to release the energy blocks deep within the body's system.

Being known as the 'Angel of Salvation', Archangel Uriel is able to show us how we can heal all aspects of our lives, finding blessings through adversity, turning disappointments into victories, and releasing painful memories and burdens.

As the 'Angel of Repentance', Uriel helps us to understand the concept of karma; the Universal Spiritual Law of Karma (Cause and Effect). Uriel helps us to understand why things are the way they are, and helps us to trust in the Divine plan for our lives so that we can know that even though things can seem to be going 'wrong' in our lives, ultimately, all is happening for our highest good.

Archangel Uriel is the angel of transformation, achieving goals, dreams and dreaming, finding inner-peace, life balance, guilt and forgiveness. Uriel relates to Divine magic, astrology, problem-solving, spiritual understanding, alchemy, weather, earth changes, thoughts, ideas, creativity, insights, Divine order, Universal consciousness and writing.

Archangel Uriel rules over missionaries, ministers, priests, nuns, healers, physicians, social workers, community workers, lawyers, farmers and the like. Archangel Uriel is the guardian of writers, those in service, public servants, missionaries, nurses, care-givers and the like.
Archangel Uriel is said to be the interpreter of prophecies, intuition and our dreams, bringing illumination to situations and prophetic warnings and information. He guides us towards taking responsibility for our own lives, and helps us to realize our full potential. Uriel helps us to find our inner-light and to express the fullness of the love and beauty within us.

Archangel Uriel brings transformative energies to the mind and is the presence to invoke when you are working with issues concerning science, economics and politics. This includes topics such as pollution, toxic clean-up, new technologies, food and farming, housing and building/construction, medical research, social equality, political reform, anything that involves organizations, system, structures and all work-related issues.

Archangel Uriel can be invoked for clarity and insight, vision, understanding others and heightened intuition. Archangel Uriel works to develop the qualities of mercy, grace and compassion within humanity. He offers protection and teaches selfless service and promotes togetherness and co-operation.

Archangel Uriel helps you to release your fears and connect with your higher wisdom. Uriel clears old fears and replaces them with wisdom, helping to renew your dedication to achieving your goals in all areas of your life. Archangel Uriel helps you to listen to your own inner-wisdom, opens channels for Divine communication, and encourages you to pursue your life purpose.

Archangel Uriel helps us to discover our life path, promotes inner-peace and tranquillity of spirit and promotes peace and unity among nations. Archangel Uriel gives us the illumination vital for those who feel that they have lost their way and who may feel emotions to do with abandonment, fear, rejection, dissipation, depression and suicide. Archangel Uriel also helps to release our self-obsessive behavioural patterns and saves us from spiritual confusion by illuminating our path through life.

Archangel Uriel teaches mastery of the material world and helps humans to connect with Divine order to bring about harmony and world peace. Archangel Uriel brings spirituality and serenity into our lives and frees us from fears.

Archangel Uriel brings inner peace to the heart and soul and within family groups. Call upon Uriel when feeling resentful or guilty as he illuminates issues and helps to resolve dilemmas. Uriel can also help if you are feeling stuck in a sticky situation.

Archangel Uriel brings practical solutions, creative insights, inspiring ideas and enlightened knowledge. Uriel brings 'light bulb' moments, increases intellectual capacity and claircognizance, and helps with conversation and communication skills. Call upon Uriel to clear your mind and help with academic pursuits, tests and exams as Uriel oversees and guides students, teachers, inventors and researchers.

Archangel Uriel can be called upon for intellectual information, practical solutions and creative insight as Uriel brings inspiration and brilliant new solutions and ideas. You can ask Uriel to help you to release fear and anger, to renew hopes and to gain inner-peace and he will help you to find practical resolutions to any perceived problems.

Archangel Uriel works on eradicating fear and restoring hope, and is passionate about the welfare of people who are unable to live their lives free of fear and/or those living in unjust and/or substandard conditions. Archangel Uriel can help us to see and acknowledge the light within ourselves and others and helps us to dissolve fears and anxieties, and assists with the development of self-confidence and self-worth.

Call upon Archangel Uriel to help you reach your full potential, protect you if you or a loved one has a perilous journey, or if you are concerned about floods, bushfires or other natural disasters.

Archangel Uriel has an affinity with the weather elements of thunder and lightning, and helps us during earthquakes, fires, floods, tornadoes, hurricanes, all natural disasters and Earth changes. Archangel Uriel can be called upon to help during extreme and inclement weather conditions and events, and to heal, recover from or avert such events.

Archangel Uriel's power connects to Earth most strongly on Thursdays.

Archangel Uriel's twin flame is Aurora, and together they work on the purple and gold rays, sometimes referred to as the 'Ruby Ray'. Purple represents the power of forgiveness and transformation and contains the violet of pure spirit, with the red of action stimulating the desire for spiritual service. Gold represents wisdom.

Archangel Uriel and his twin flame Aurora govern the development of the Solar Plexus chakra within humanity with the yellow of knowledge and the golden level of wisdom, allowing you to connect to your soul's wisdom.

On a physical level, the solar plexus chakra governs the liver, spleen, stomach, gall bladder and pancreas. Our fears and self-esteem (or lack thereof) are held within this chakra. When this chakra is functioning properly you feel confident, self-empowered and balanced. As you master your fears and connect to your inner-wisdom, the solar plexus chakra further develops.

Archangel Uriel and Sananda work in co-operation to develop the qualities of grace, mercy and compassion in humanity. Together they inspire brotherhood and sisterhood and promote togetherness and co-operation. Sananda and Uriel offer loving protection and teach selfless service.

Each of the archangels has a special place in the etheric of planet Earth. You can ask to visit their temples where they work during mediation or sleep. Archangel Uriel and his Archeia Aurora have their etheric retreat is in the Tatra Mountains in Poland, and you can ask to be taken there to have any fears and/or doubts removed and healed, and to increase the flame of peace within our nature for renewed balance and equanimity in challenging situations.
Archangel Uriel helps with:

- achieving goals and aspirations
- finding practical solutions
- renewing faith, hope, inner-peace and harmony
- clarity and understanding
- releasing energy blocks
- finding blessings through adversity
- turning disappointments into victories
- releasing painful memories and burdens
- healing on all levels
- finding our own inner light
- co-operation
- release fears
- connect with your higher-self2
Prophecy
Essentially, God placed Meghan Markle in the Royal House of Windsor just like the did with Queen Esther to one day be of assistance and aid to us in the US. We will be in a condition to where people will think this is "Slavery Again" (When it Never Ended- just always morphs into something else). As have pointed out in previous FEMA camp series. Between
Student Loans
, and with Hordes of people
forced into becoming socioeconomic refugees.
You will find yourselves in a situation where you will think this is Antebellum Slavery again. There will be a Second Revolutionary war over it (the Racists will call them "Communists"), the British and French will have to invade, and they will give us resources. Remember, the British Crown along with the French also owe us Reparations.
The Spanish for example owe us reparations, and that will be partially paid with back one day with Women and the Ships of Tarshish (Isaiah 60:9 and Ezekiel 27:25) that will take us to the Holy Land one day. The Spanish have always been some of the World's Preeminent Ship builders.
Matthew 6
9 Our Father which art in heaven, Hallowed be thy name.
10

Thy kingdom come, Thy will be done in earth, as it is in heaven.
11

Give us this day our daily bread.
12

And forgive us our debts, as we forgive our debtors.
13

And lead us not into temptation, but deliver us from evil: For thine is the kingdom, and the power, and the glory, for ever. Amen.